9 Best Casting Apps for Smart TV (Android)
If you're bored watching TV shows on a small Android phone, try casting it so you can watch on a bigger display. Here are the best casting apps that can do that.
When your laptop display or PC monitor is too small and you want to watch a movie on a bigger screen, screen-casting it to your smart TV is the go-to solution.Entertainment shouldn't be difficult when you choose only the best casting apps for your smart TV. There are way too many casting apps on Play Store.They mostly function in a similar way.
But choosing the wrong casting apps can make enjoying your free time more difficult, especially if the apps are buggy.
Best casting apps for smart TV
Mirroring360 Sender Basic by Splashtop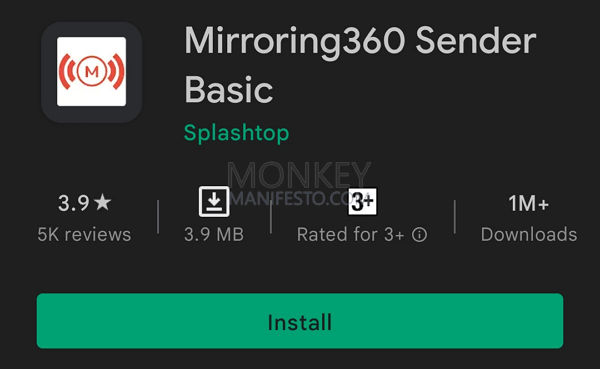 This third-party casting app isn't so popular but it's worth trying if you want to try new casting apps.Downloaded over by one million users and with a 3.9-star rating, Mirroring360 isn't that bad of an app. Just like the app name, it mirrors your Android smartphone screen to other devices wirelessly.You can technically use any app on your phone on another, bigger display.
It's just good for entertainment but also productivity purposes.
Download Mirroring360 on PlayStore
iMediaShare by Flipps Media Inc.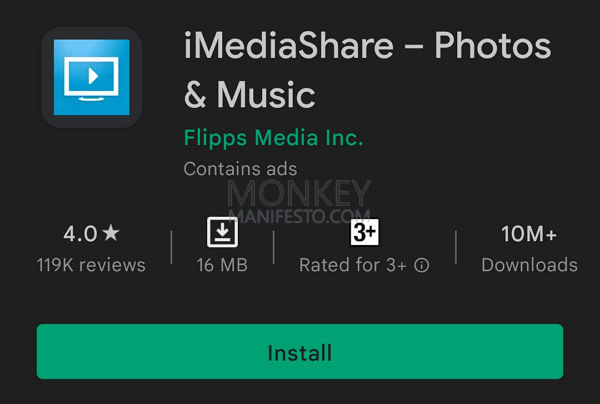 iMediaShare has been downloaded by millions of users and has a 4.0-star rating on Play Store, and its small size of 16MB makes it convenient to use for lower-end Android smartphone users who want to enjoy watching things with their smart TVs. The app is good enough for free users but not so good for some people who want to get rid of ads because this casting app doesn't provide the pro version.
Download iMediaShare on Play Store
BubbleUPnP for DLNA/Chromecast by Bubblesoft
BubbleUPnP has a better star rating than most apps in this list, which is 4.6, and it's downloaded by over ten million users.The basic functionality like streaming your videos, music, and pictures can be done conveniently thanks to its nice-looking interface. Unique features are the dark/light theme options, custom subtitle appearance, and the ability to access content from music services with TIDAL and Qobuz or cloud storage services like Google Drive and OneDrive.Just like other apps, it supports Amazon Fire TV/Stick, Xbox, and PlayStation.
Download BubbleUPnP on Play Store
LocalCast by Stefan Pledl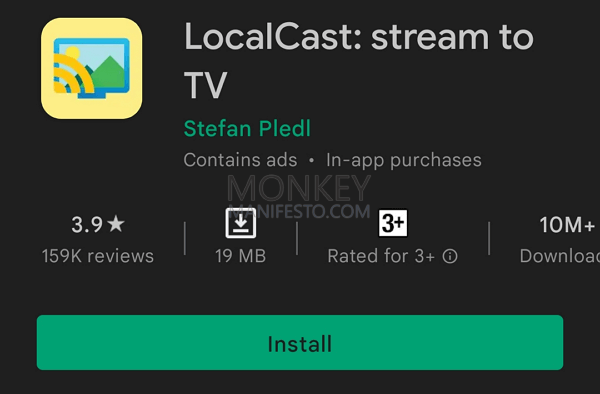 Downloaded by more than ten million users, this third-party casting app has proved its functionality of providing a good casting experience to your smart TV.
It supports Xbox One, Sonos, Nexus Player, Apple TV, Roku, Chromecast, Panasonic, Samsung, LG, Sony Bravia, Xbox 360, Amazon Fire TV/Stick, and more smart TVs or devices. Unique useful features like subtitle integration, wireless headphone integration (beta), and the ability to zoom.The downside of this app is that it shows ads, and you have to pay the pro version to remove the ads.
Download LocalCast on Play Store
Cast TV for Chromecast/Roku/Apple TV/Xbox/Fire TV by Castify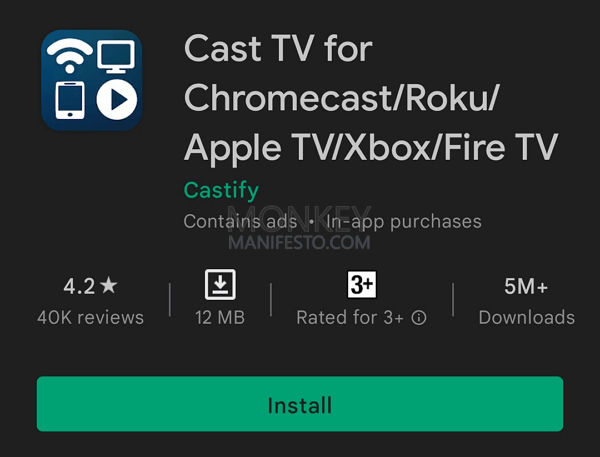 Cast TV by Castify provides significantly more beneficial features for users who regularly cast their phone to bigger screens.You can mirror, receive content from websites, control Roku from the app, enjoy IPTV with M3U playlists, and play history to watch again what you've watched. When watching from websites, you get to block popups to make it easier to cast the content.
With the good-looking interface, you can enjoy watching movies or seeing presentations on bigger screens conveniently.
Download Cast TV on Play Store
Web Video Cast by InstantBits Inc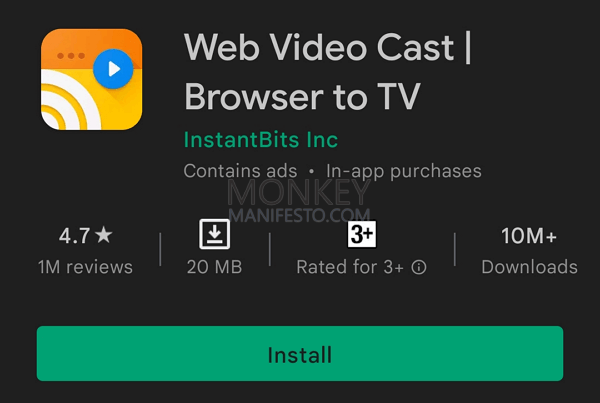 Web Video Cast has an outstanding 4.7-star rating with over ten million downloads, and it's enough to convince you to start using it to cast videos online from websites to your TV.It does what the app name suggests, but there's more. You can use your own subtitles, watch content from local devices and you can browse the files too, make your phone stay awake to keep watching, and more.It provides a premium version, too, for those who want to get rid of ads and enjoy features like queue and video history.
Download Web Video Cast on Play Store
AllCast by ClockworkMod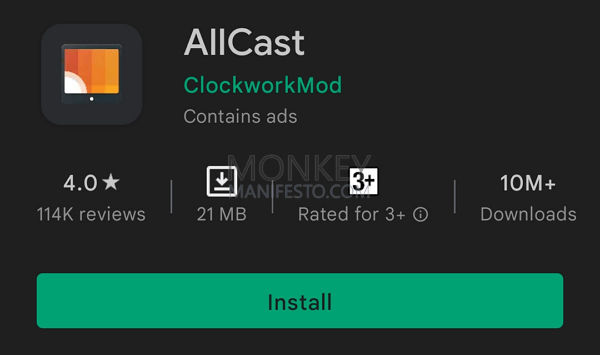 AllCast provides the basic functionality of casting your smartphone content to your Amazon FireTV, Chromecast, Apple TV, WDTV, Xbox 360, Xbox One,
Samsung
, Sony and Panasonic, Roku, and other devices. Other than casting your currently watching TV shows, the app provides the ability to lock your Android smartphone to keep while streaming and get content sources from your
Google Drive
or OneDrive account.
It's free and shows ads.
Download AllCast on Play Store
Cast to TV by InShot Inc.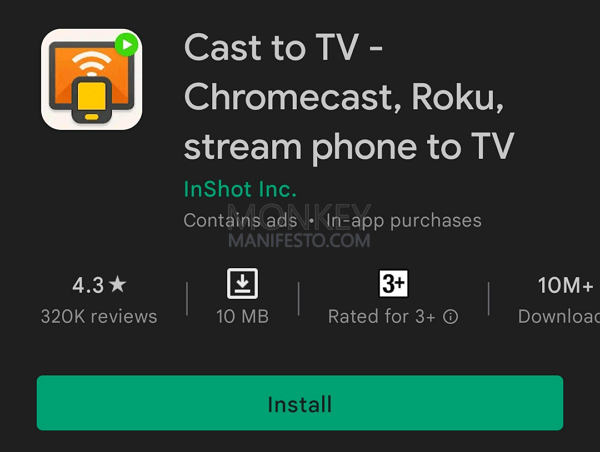 Cast to TV is not just one of the most popular third-party casting apps but also one of the most favorite.With a 4.3 star rating, there's no doubt it can make your entertainment life easier.You can pause, rewind, forward, change volume, go to the previous/next content, and more with your Android phone. The app will automatically scan for videos, pictures, and music located locally or on your SD card.
Play content in a queue, simply set up and watch TV show episodes in chronological order.Repeat content in a loop or just shuffle them.
Download Cast to TV on Play Store
Google Home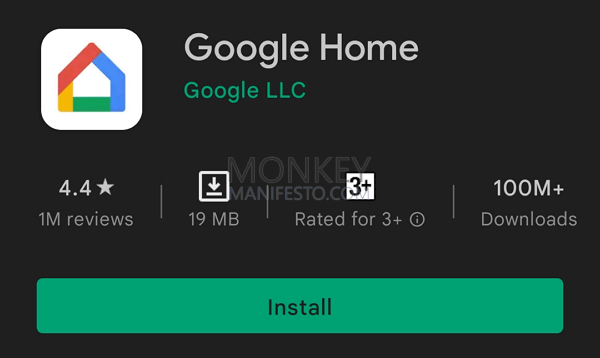 If you have Chromecast, the Google Home app is probably the best app to use, and most reliable with its 100 million downloads and a 4.4-star rating on Play Store.It casts content on Android phones through Chromecast simply. Although it might not provide features you can find on other third-party casting apps, the Google Home app is perfect for users who want to manage their Google Home, Google Nest, as well as Google Wi-Fi while enjoying entertainment from their Android phones on a bigger screen.
Download Google Home app on Play Store
---
Casting your small-sized TV shows from Android phones to your smart TV shouldn't be something difficult, and with these apps, it can be a lot easier.
Simply pick one and enjoy watching on bigger screens.