10 Best Pomodoro Apps That Are Cross-Platform, Free, & Paid
There are great Pomodoro apps. But you're confused. Don't worry, we'll help you choose one. Here are the best Pomodoro apps that are cross-platform.
Pomodoro is one of the most popular time management technique that involves a timer app to completely manage your productivity.Here are the best Pomodoro apps that are free, paid, cross-platform, and provide unique features.
What is the Pomodoro technique?
For those who don't know, Pomodoro involves (usually) 25 working minutes and 5 break minutes.This allows you to get things done without burning yourself out. The fact that you are self-aware of the timer ticking makes you more focused to do your important tasks while still get enough break time so you're not bored for long working hours. It also makes sure you don't spend too much time on "break" time more than you should, like browsing Twitter just because you're bored or reading memes on Reddit for half an hour, which is too much. Unless it's time for a long break, which is about 15 minutes to 20 minutes after four working sessions, you probably can't laze around.
But it's worth the time you have spent working. That doesn't mean you are not allowed to do other things that are also important, though.Most Pomodoro apps allow you to pause the timer for you to do other stuff and resume the timer to continue the work. Most Pomodoro apps are free, but more flexibility and more features are sometimes included in the in-app-purchases, while some are completely paid.But don't worry, this post will help you to save time choosing which Pomodoro app suits you the most.
Best Pomodoro apps
KanbanFlow (desktop web and mobile web app)
KanbanFlow is the equivalent app to Trello that works with boards and cards, it's probably not as flexible as Trello (as a free user).
But, one thing that distinguishes is that KanbanFlow includes Pomodoro features to help you get the tasks done. The great thing about this app is that the Pomodoro features are completely customizable.You can change the work time, break time, long break time, long break interval, the sound, and more. You can also see the logs to track how well you're doing for the last week and stuff.But one thing that may bother you is that it doesn't allow you to pause the timer.
Only stop.So it's difficult when there's something urgent or interrupts your work time. Other things are that they don't have a mobile app for Android or iPhone, and only a mobile web app instead.Some Trello equivalent features here are paid features, like file attachment, copying board, and integration with third-party services like Zapier -- all can be unlocked by paying $5/month.
focus booster (Windows, Mac, web app, PWA)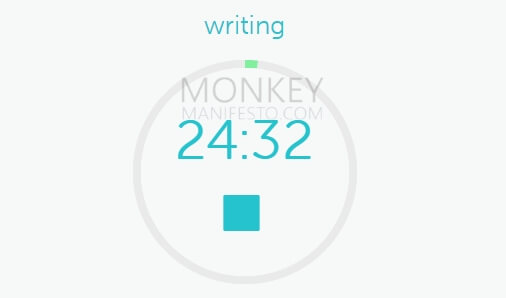 Focus Booster (focusboosterapp.com) is simply another unique Pomodoro app that is available in Windows, Mac, and as a web app.
This app a popular among freelancers and consultants since you can track how you spent time with different clients. One thing that may bother you is that they recently remove their mobile apps from the store, stating it's now become a PWA that isn't available yet at this time of writing.A PWA (progressive web app) is basically the balance between a web app and a mobile app so you can get the best of both worlds. As a free app, it allows you to track up to 20 sessions a month, which is not enough if you manage multiple clients and want more information about how you spent time working with them.The regular break and working time are also customizable, including the ticking sound. For more features, like exporting your logs, you'd have to pay about $3/month.
For client and revenue management, you'd have to pay about $5/month.Not that expensive considering some apps here provide fewer features for the relatively same price.
Focus To-Do (Windows, Mac, Android, iOS, web app)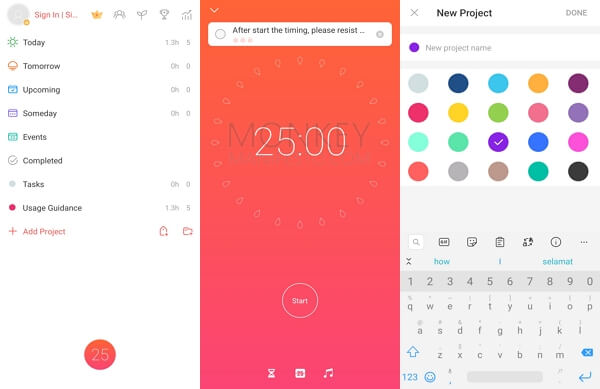 Focus To-Do is one of the most popular cross-platform Pomodoro apps.It works with Windows, Mac, Android, and iOS, and as a web app.
It has a clean design and easy to use interface. The desktop app and the mobile app works completely fine.It's probably one of the best cross-platform Pomodoro apps.As a free user, you would get enough and decent features for your daily tasks. You can use it for different tasks, clients, projects, and stuff.
Track how you spent time easily within the app.It works like a to-do list combined with a Pomodoro feature that works pretty well on all platforms. One thing that turns some people off is that they don't have a built-in dark mode yet.But for daily use, it's a completely fine app. By default, the work time is 25 minutes.
If you want customizable timer length, it costs a premium subscription, which allows you to do more things like calendar view and tags for tasks.
Pomodor (web app, but completely free)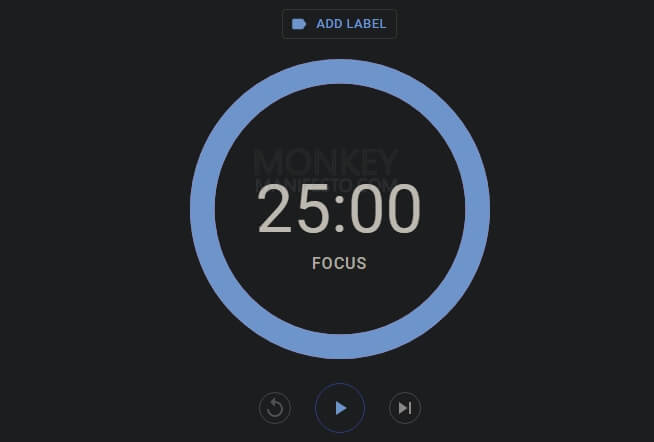 If you ever wanted a simple, customizable Pomodoro app, then this is it.Pomodor is probably the best free of all Pomodoro apps out there.It has tracking features, customizable work and break duration, built-in dark mode, labeling feature, and more. The best thing about this is that you don't need to sign in to the web app if you only want to use the timer feature.
You're allowed to pause the timer, stop it, or skip to a break session.Add a label to track how much time you spent on specific tasks. This is the best Pomodoro app if you don't want to install and spend some storage space for a Pomodoro app while getting similar features you will get with other paid web Pomodoro apps.
Pomotodo (Mac, Windows, Android, iOS)
This Pomodoro app isn't really popular, but you might want to try it.Pomotodo has a simple interface of a to-do list combined with a Pomodoro feature for each task you add. The customizable timer isn't included in the free version.
But you can track your productivity statistic anywhere on PC, phone, or the web. The pro version is relatively cheaper.It's $3.9/month which includes goal setting, advanced to-do features, work report, more sounds, and sync with Google Calendar.
Engross (Android, iPhone)
If you don't work on PC or Mac,
Engross
is for you.It's only available on mobile but provides the best features of a Pomodoro app.
The apps are highly rated on both platforms so there's no need to worry about the quality. It's completely free, but it shows ads to gain revenue.If you want to get rid of the ads, pay for a monthly subscription of about $3/month.
Marinara Timer (web app)
Marinara Timer is simply another free Pomodoro web app that doesn't have to be installed to use.Simply open the website, no need to sign in, and collaborate with each other by using the shareable link. You can also customize the timer duration, which is great for people who want a simple and easy experience to become more productive.
It has other modes like custom and kitchen, which is a timer that keeps running. The one thing that may bother you is that it doesn't have a tracking feature, which is obvious because they don't even require you to sign in to use them.It's a little difficult to see how well your time spent, but it's easy to use for a new Pomodoro user.
PomoDoneApp (Mac, Windows, Android, iOS)
PomoDone is one of the best cross-platform and free Pomodoro apps.It works well on all platforms except that they have some bugs on the mobile app, but overall they work pretty well for daily use. PomoDone is like Focus To-Do but has a built-in dark mode, with additional features that attract most users like integrating with third-party apps like Trello, Microsoft To-Do, and more. As a free user, those features are fine and help you productive day by day.
One thing that sets this apart from other apps is that the timer has third options (5 minutes, 15 minutes, 25 minutes) for the free version. You can see the logs as well, but you can't do that directly within the app unless you subscribe to the premium version.One thing that I like the most is that the synchronization between the third-party apps is just great.You can mark a Trello card done, start a Pomodoro timer from a Trello card, and more.
Be Focused (Mac, iOS)
Be Focused
is dedicated to Apple users who want to be more productive.
It has a simple user interface, just like what other iPhone apps provide. The features are great: you can have a to-do list, track your progress, customize the timer duration, and more.But for synchronization with the Mac version of the app, you have to subscribe to the premium version.
FocusList (Mac, iOS)
There's another Pomodoro app for Apple users.It's completely paid but provides a simple and aesthetic user interface that comfort your eyes to set the Pomodoro timer and become more productive. FocusList is about $5 for a one-time purchase.
You can use it on the Mac and iPhone at the same time.You can also track your progress with its beautiful, elegant look that doesn't confuse you.
---
There are some good enough Pomodoro apps out there, but you might be confused about choosing the best one.From the features, price, user interface, and cross-platform availability, you can determine the best app for you from the above list.