8 Best Screenshot Apps for Android
To reduce confusion when searching for any kind of screenshot app in Play Store, just read on to pick the best screenshot app for you.
Taking screenshot is a thing in 21st century, especially if you use Android phone.When you open Play Store and search for a screenshot app, you may be confused by a lot of (probably hundreds) screenshot apps that are free to download.To reduce confusion, just read on to pick the best screenshot app for you. The best screenshot app is a free to use app, no need to root, and works like a charm.
It should be simple, has good star-rating, and most reviews are good.Well, this article covers all those unique screenshot app for your Android phone, so you don't have to be confused anymore when picking the right apps. If you use Windows 10, you use PicPick as screenshot app.It is one of the best screenshot apps for Windows 10.
1.
Firefox Screenshot Go Beta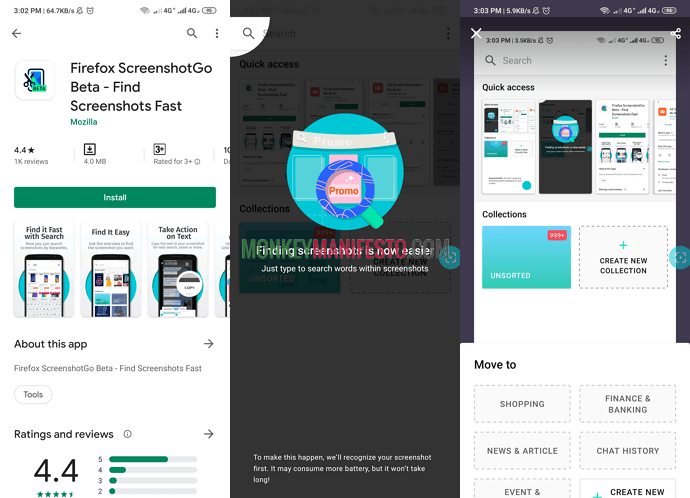 Just like the name suggest, this app is made by Mozilla who made Firefox browser.This screenshot app is an official app, made with well-known company, and has great interface with smooth performance.This app is still beta version but has good enough feature to be used by people who always constantly take screenshot on their Android phone. This app organize your screenshot using its algorithm or something like that from your gallery.
So, you don't have to pick one to one screenshot to edit them.
Download Firefox Screenshot App on Play Store
2.Screenshot Master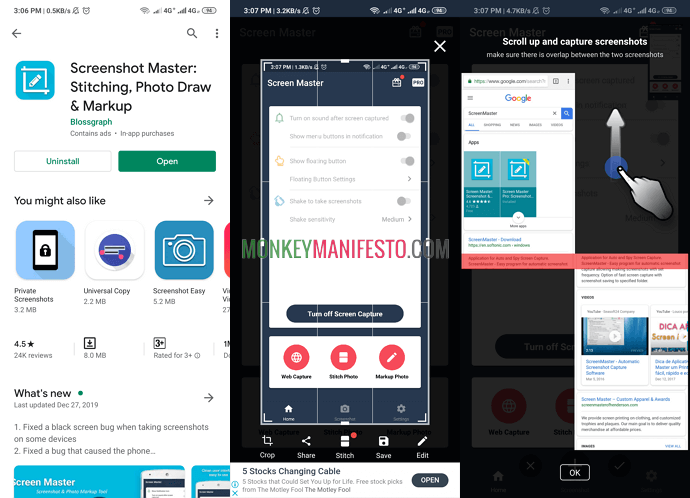 This app already made great screenshot app that it has 4.5 star-rating and 24K reviews.It is so popular and has a lot of features.
It has a button that floats to take screenshot quickly, whole web page capture, image annotation features, and many more good free features, making it easy to manage your screenshots. You can also take screenshot from a web page here, directly.It just like general screenshot app but with simpler interface so it doesn't confuse you to edit or manage the screenshots you want to take.
Download Screenshot Master on Play Store
3.Screenshot Touch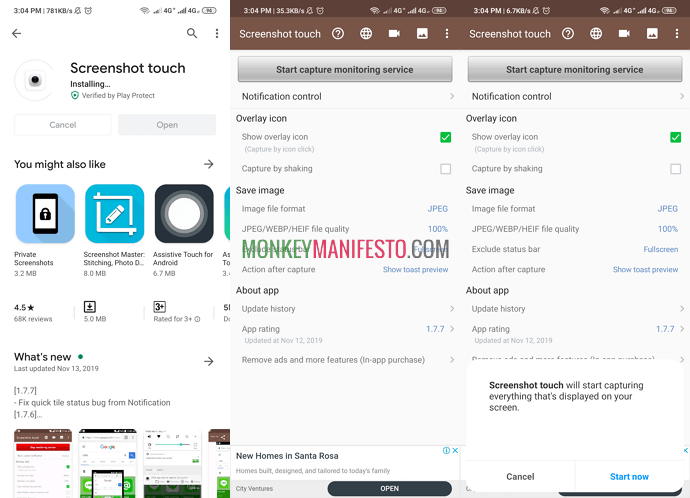 Screenshot Touch is just another great screenshot-taking apps.
It has a lot of features, like persistent notification so you can take screenshots on your Android screen every single time you want to take.From image cropper, scroll capture to capture the entire page of website or something that is scrolling, and more.You can also do screen recording here, but it's not the main feature. This app has ad inside it, so you will see ads every time you open the app while being connected to the internet.
We don't know if it's worth it to buy the premium version, but the free app has already great features you can use to take and edit screenshot on your Android phone.
Download Screenshot Touch on Play Store
4.Screener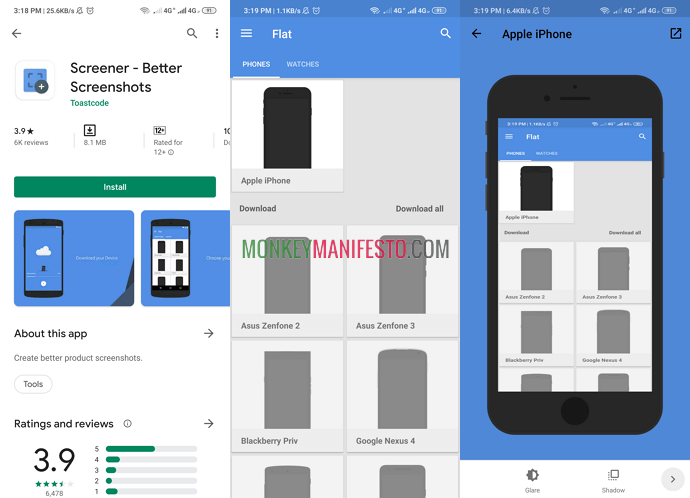 Screener is a little bit different than most screenshot apps, because it provide screenshot-taking feature for developers.If you want to promote your app on Play Store or App Store, this app will provide many different kind of smartphone brand and types frames for the screenshots of the app you're making. All you have to do is to choose the frame based on brand and model, and then download it afterward.
This app is free and easy to use.Great for game or app developers.
Download Screener on Play Store
5.AZ Screen Recorder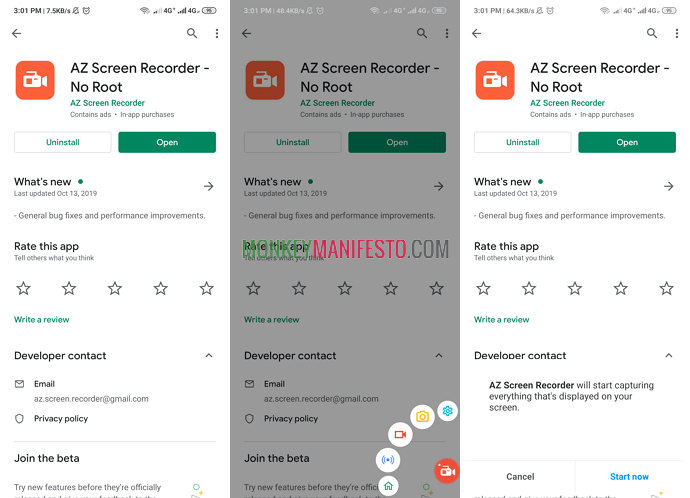 AZ Screen Recorder is one of the most popular screen recorder app in Android.
It doesn't just provide recording tool, it also provide great screenshot taking feature with its easy-to-use interface.The app is free and it can even stream your screen online -- great for gamer, or YouTuber who is gamer. Just like the name says, this screenshot app doesn't require you to root your Android device.It works fast, and compatible with most phone.
It has no limit screen recording duration, and it also don't put watermark on every screenshot you capture.
Download AZ Screen Recorder on Play Store
6.Touchshot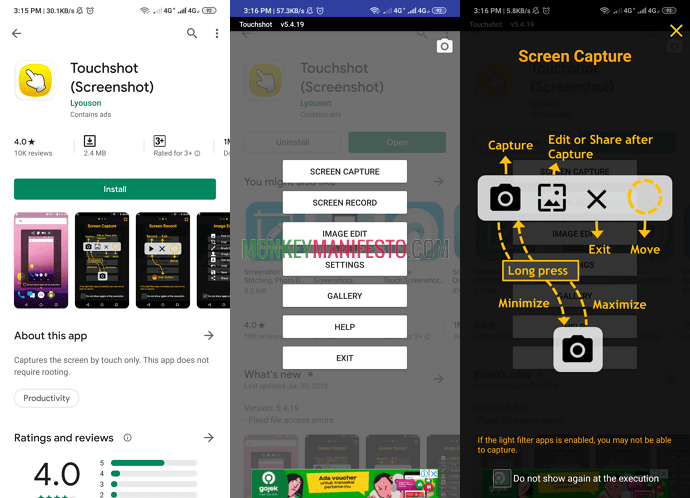 Touchshot, just like the name suggest, it only require you to touch the screen to capture screenshot.This app has 4 star-rating and 10K reviews.
This will guide you a long the way to tap screenshot for the first time using this app.The great thing about this app is that this app doesn't require you to open the app, it just shows a transparent window with some button to take and manage screenshot right away. Amazingly, this app also provide screen recording feature.Tap Settings to manage the app features, you will see some options to make this app easier to use.
Download Touchshot on Play Store
7.
Screenit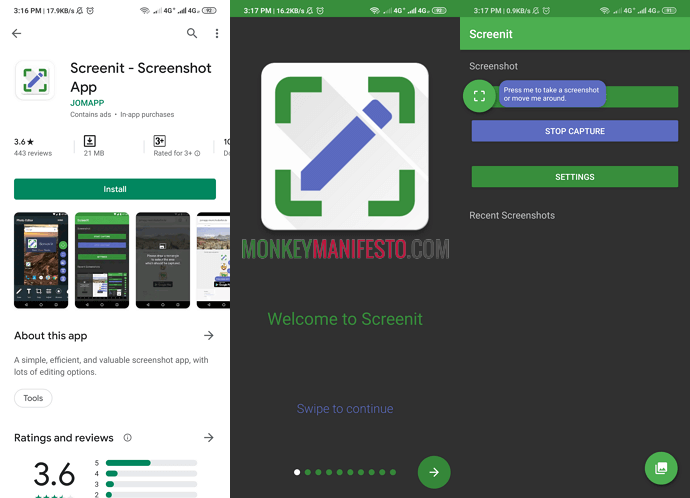 Screenit has 3.6 star-rating with about 400 reviews.It tells that this screenshot app is still new and has a lot to provide.Once you install the app, the app will guide to along the way to learn how to get the most out of this app.
It has simple interface and it doesn't confuse you like other apps, perfect for beginner.
Download Screenit on Play Store
8.Super Screenshot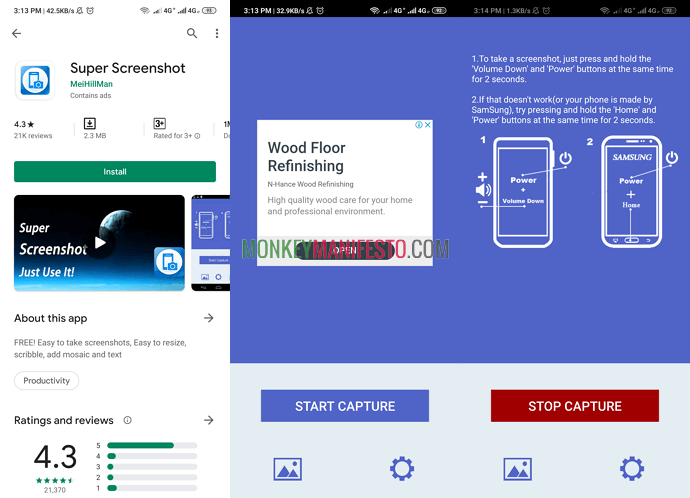 Super Screenshot is just great app with the simplest interface.You just need to tap 
Start Capture 
to start taking screenshot, and tap 
Stop Capture 
to stop doing it.
It has 4.3 star-rating and 21K reviews, that proved the app has great reliability to take screenshot you want to take.
Download Super Screenshot on Play Store
---
Using one of the best screenshot apps for your Android phone can improve your productivity.There are lots of apps you can download on Play Store, but not many are great and reliable.
RELATED: Can't Take Screenshots Due To Security Policy