How to Create WhatsApp Sticker on Android/iPhone
WhatsApp has a feature called sticker. It's entirely free and everyone can create it. But how do you create WhatsApp sticker on Android and iPhone?
WhatsApp is one of the most popular and most used messaging apps in the messaging market right now.Last year, WhatsApp released a new feature called sticker. It's a general sticker feature that has been implemented on other messaging services such as LINE.If you are curious, you may want to know how you can create your own WhatsApp sticker on your Android or iPhone.
The difference between WhatsApp sticker and LINE sticker
LINE has been the app that popularizes sticker features.
It's a teen messaging apps and that's why it's the most popular messaging apps in Japan and other Asian countries.The sticker could make the messaging experience more friendly for younger users and target markets. Now, WhatsApp also provides a sticker feature.You can even create your own sticker.
You can even create it from your own pictures.
WhatsApp stickers are free
On WhatsApp, stickers are entirely free and cost no money.You can send stickers to another user, download them from other resources -- entirely free. LINE is different.On the LINE chat app, there are free and paid stickers.
The free version provides limited features and shapes.The paid version provides many more shapes and designs.
WhatsApp sticker is normally a flat image with no motion and sound
On LINE, there are many stickers with their own animation.When you tap them, your phone will ring that stickers' sound.
On WhatsApp, however, it doesn't sound and doesn't move.The only flat image that you can easily recreate.
You can create your own sticker and use other user's sticker
On LINE, you have to buy and own your own sticker from the store.On WhatsApp, you can use other user's stickers without needing to ask them, by copying WhatsApp stickers. You can also create your own WhatsApp sticker on your Android and iPhone.
The only thing you need is a WhatsApp sticker creator app.
WhatsApp allows you copy stickers others sent to you
Yes, you can send other users' stickers to other users by copying them directly. To copy a sticker that others sent, you only have to tap and hold that sticker.Then tap the Forward button to send that funny sticker to any other WhatsApp users you want.This works the same when you forward normal messages.
How to create your own WhatsApp sticker on Android/iPhone
Other than using already made WhatsApp stickers, you can also create your own. Creating and designing your own WA stickers is easy and can be done on all Android phones.
The only thing you need is a photo editing app that lets you remove image background and an app that lets you upload that image as a WhatsApp sticker you can use. There's another app that provides both.So, you only need one app that does photo editing (to remove background) and upload that as WhatsApp Sticker.You can use the best WhatsApp sticker maker app. But, before knowing how, you need to know the requirement of what images that's best as WhatsApp sticker.
RELATED POST: How to Change Contact Name in WhatsApp
Images size and file size to be created as WhatsApp sticker
Here's the requirement of images you can turn into a WhatsApp sticker.
You need to follow this requirement to make those images work best as a WhatsApp sticker.
The sticker size must be 512 x 512 pixels.
The image that you choose as a WhatsApp sticker should have no background
You also have to create an icon pack for your stickers, and it needs to be 96 x 96 pixels and less than 50 KB.
The sticker should have less than 100KB file size.
How to remove image background easily and upload your WhatsApp sticker on your Android
On Android, you can remove the image background using the StickerMaker app.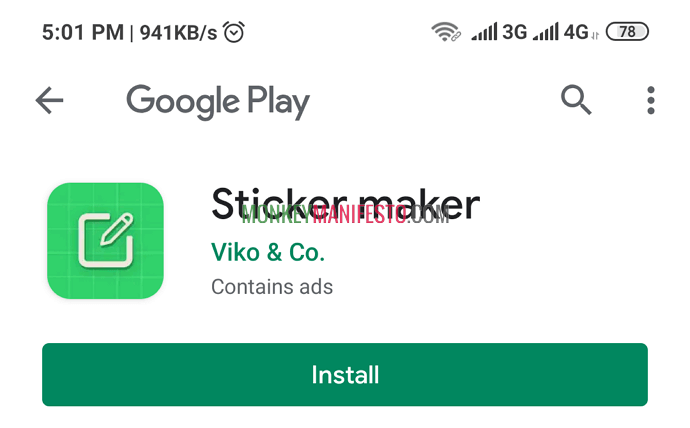 Let's talk about how to create a WhatsApp sticker on Android first. After installing the StickerMaker app, open that app. Tap Create a new sticker pack.Then type the sticker name and your name as the author.Tap Create to create a WhatsApp sticker using those names.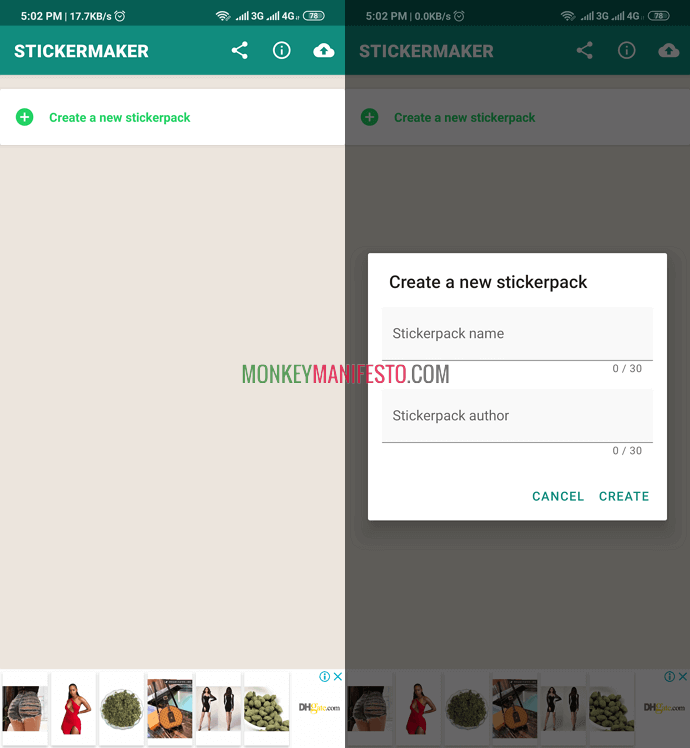 Now, there's a sticker pack.
All you need to do is to fill each sticker slot with your picture.Tap one of the sticker slots to fill it with any image you want.You can either take a picture from the camera, open the gallery app to find an image, or select a file to browse the file without the gallery app.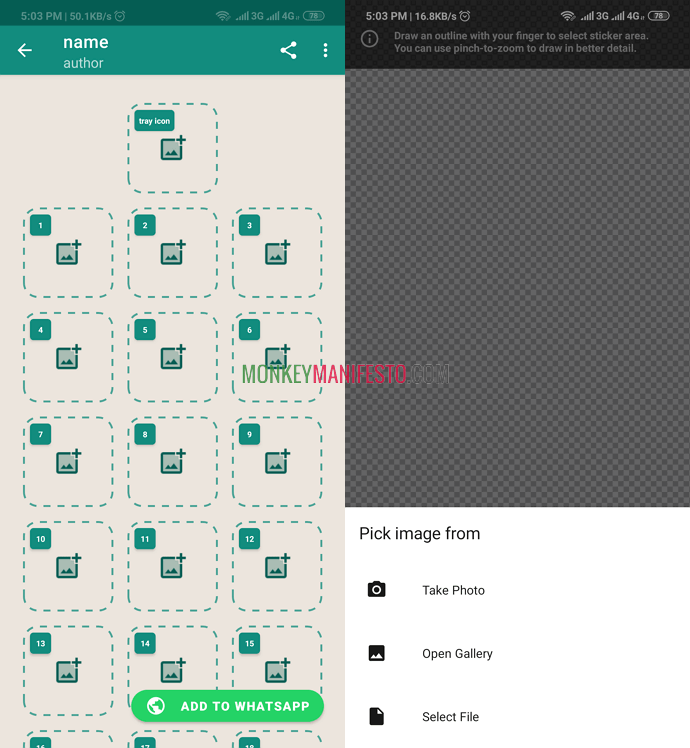 To remove the background, you can tap Freehand.
Then move your finger around the screen to draw a line and remove the image background.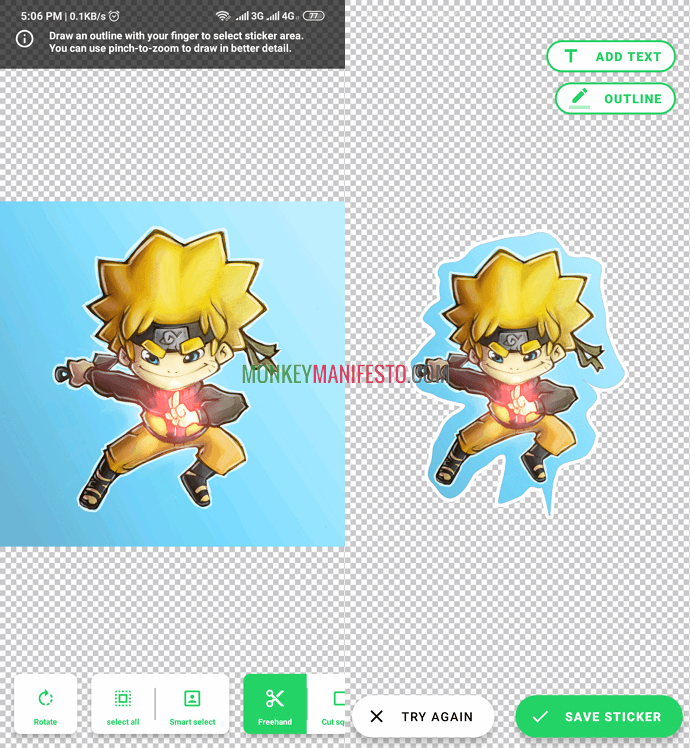 Once it's done, tap Yes, save sticker. Congratulations! Now your one of your sticker is done.And now you have to do the same thing to other sticker slots.You can create how many stickers you want.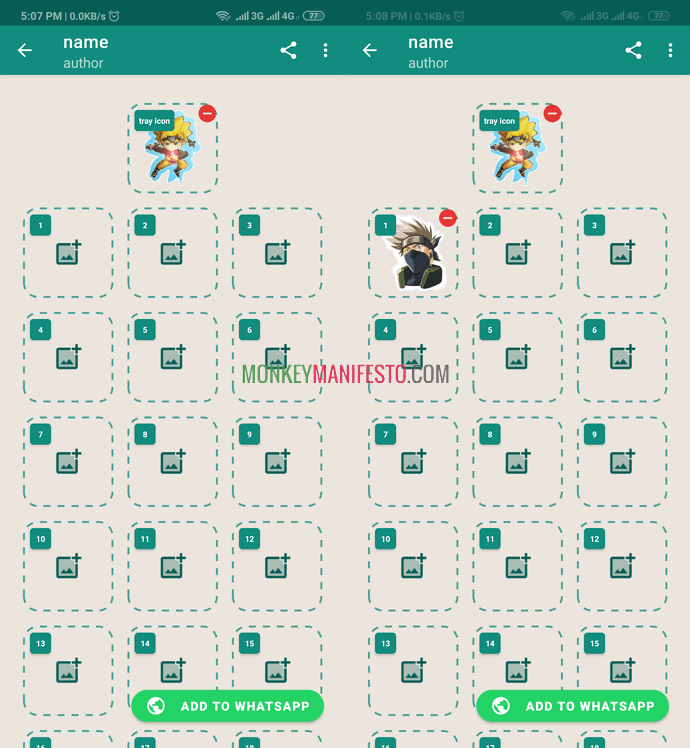 Once you feel it's enough, you can tap Add to WhatsApp to upload them as a WhatsApp sticker.
Tap Add.

How to create your own WhatsApp sticker on iPhone and then upload them to WhatsApp
On the iPhone, you can use Sticker Maker to create a WhatsApp sticker. Here's how.
Tap the Plus button to create a new sticker pack.
Tap the new sticker pack that you just created.
Tap the Tray icon.
You can either take a picture from your camera or browse your own picture from the library.
Now select the area of the picture.
You remove and adding parts of the image here.Then tap Save.
You can now do the same thing to the rest of the sticker slot.
Once you feel it's enough, tap Save Sticker Pack.Then tap Add Sticker Pack to WhatsApp.
It will open WhatsApp directly, and you'll be prompted to save the new sticker pack.
Tap Save to add that sticker pack you've created to WhatsApp.
How to save other user's sticker as yours
You can save stickers other users sent as yours.To add a sticker that's sent by others, you can tap that sticker and then tap Add to favorite.
Now, you can open and send that sticker by tapping the emoji icon and select that sticker.
Where to download WhatsApp sticker that's already made
If you wonder how other users get their own sticker, you can do one of these:
1.Download WhatsApp sticker on WhatsApp itself
WhatsApp provides its own default sticker you can own.
You can download and save them by tapping the emoji icon and then tapping the plus button.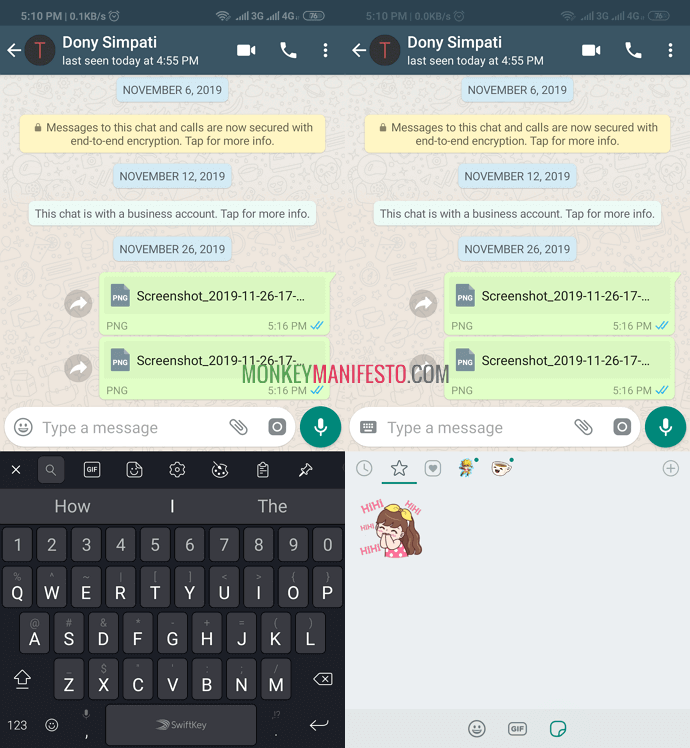 Then there will be shown sample WhatsApp sticker you can save and share.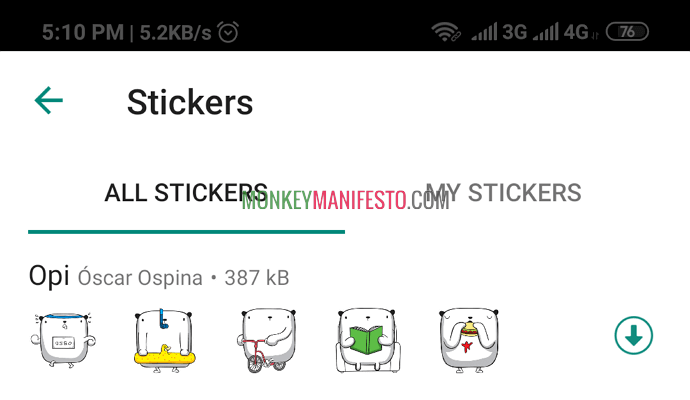 2.Download WhatsApp sticker from the Play Store
If you wonder how other users get their funny and rare stickers, you can search for them on the Play Store.Choose one of the stickers on the search result, then tap
Install
.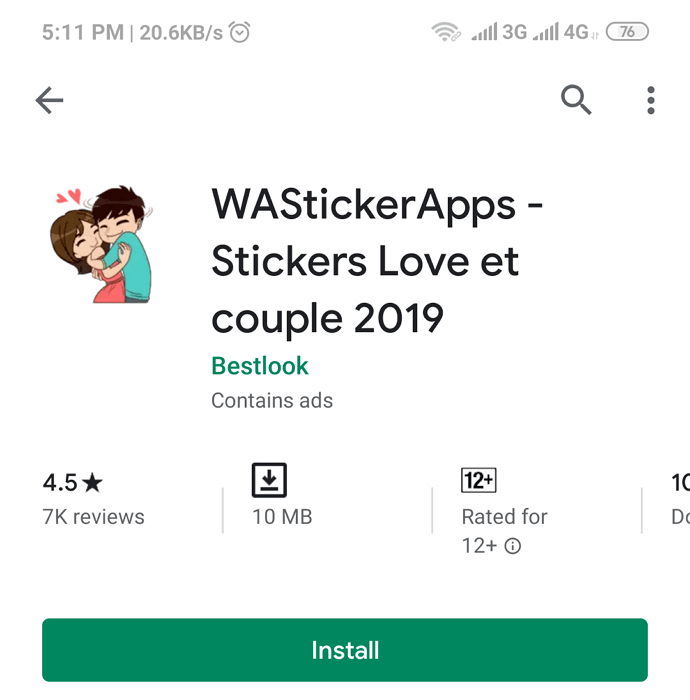 There are lots of WhatsApp sticker out there.
Just type "some random keyword " + "WhatsApp sticker".Then you will find one.
---
Making your own WhatsApp sticker is easy, and all you need to do is by using a simple app and spend some time to create the entire sticker pack.