How to Disable Spell Check in OneNote (PC & Mobile)
But only few people who knows how to use OneNote. Including to managing spell check in OneNote, like turning it off. Here's a way to stop spell check feature.
OneNote has become one of the most popular note-taking apps before Evernote.OneNote has been our favorite note-taking apps, because it has simply enough features for a free note-taking apps with good enough performance and compatibility.Unlike Evernote where it's not perfected yet across many devices, OneNote does great job at it. But, only few people who knows how to use it though, especially the one who just enter the note-taking apps market.
Including to managing spell check in OneNote, like turning it off.Or even changing the language. If you're looking for a way to disable spell check in OneNote on Android, iOS, Windows 10, or Mac, then read on.
ALSO READ: How to Share OneNote
Disable Spell Check in OneNote UWP (Windows 10 PC)
Windows 10's OneNote app has incredible features almost as good as its desktop app that have been discontinued (OneNote 2016).It also has the option that lets you enable or disable spell check features.
Here's how to do that. Open OneNote app. Click the three dots at right-upper screen.
Click Options.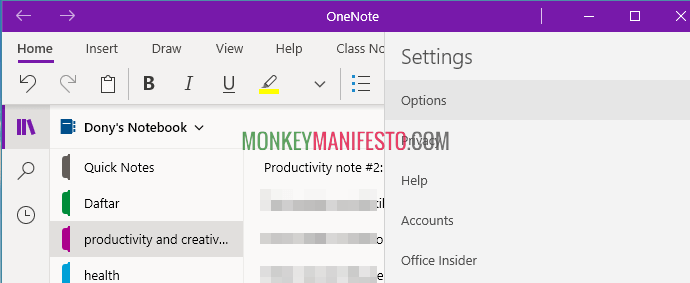 Now, OneNote shows you some options from experimental features to hide spelling errors.To hide spelling errors, make sure the toggle button shows On status.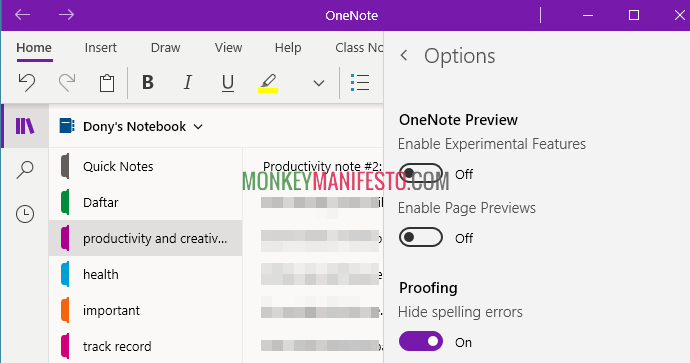 Tadaaa! Now OneNote won't show any spelling or grammatical error anymore.
Disable Spell Check in OneNote Web App (Browser App)
OneNote's web app contains the same features they provide on its Windows 10 app version.But with a little bit differences. To stop OneNote from showing any spelling or grammatical errors, you can do that by opening any Notebook > open any Section > open any Note/Page. It will show the whole menu.
To disable spell check, tap a drop-down button after abc icon.That shows all drop-down menus about spelling, language, and AutoCorrect. Tap Hide spelling errors to stop the spell check feature.
Turn Off Spell Check in OneNote Android/iPhone
If you want to get rid of spell check in OneNote mobile app, you can't disable it directly from the app.OneNote mobile app relies on your device setting to do spell check.
So, you've to disable the spell check on your devices for the entire Android app. Go to Settings.Tap Additional settings.Go to Languages & input.
Now your Android's Setting app will show the whole options to manage anything about languages and what you type.
Tap Spell checker.  To disable spell checker on Android, just set the toggle button until it becomes gray.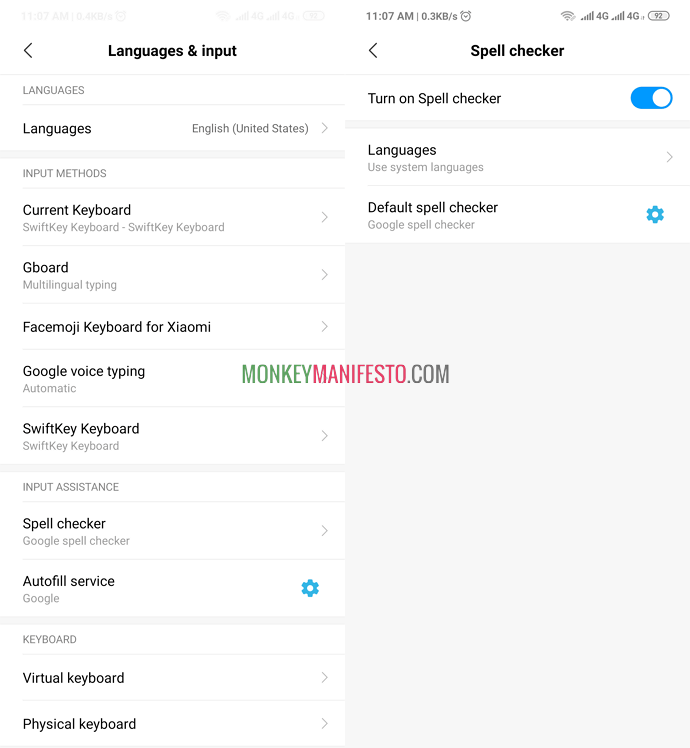 Like this.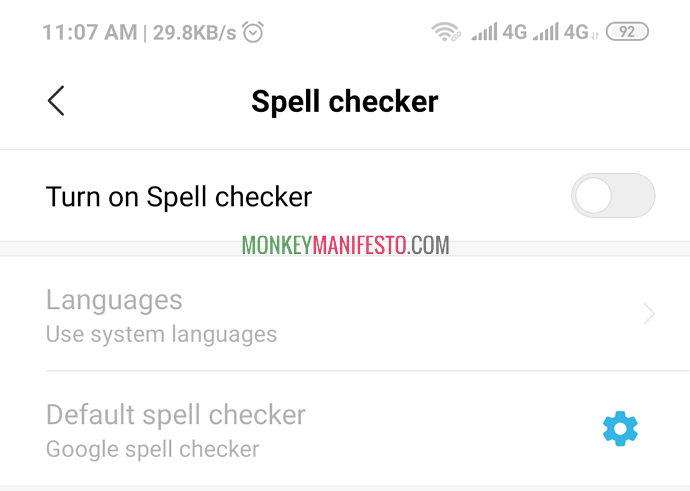 ---
Now you've got rid of red lines in OneNote.Disabling spell check isn't that hard whether you use OneNote Windows 10 app, Android/iPhone app, or even web app.