How To Disable Touchpad on Windows 11
Sometimes, your hand unintentionally touches your touchpad while typing. Here's how to disable your touchpad on Windows 11 so you can focus only on typing.
A touchpad is one of the most important features of a laptop, and it has always been improved to help productivity.With Windows 11 (and previous Windows versions like Windows 10), you can control how your touchpad works to make you more productive while using a mouse or other plugged-in devices. Using a touchpad can make it easier when you don't have enough space to put your mouse while working.It's useful but can be distracting when you accidentally touch your touchpad while typing and unintentionally move your cursor to where it's not supposed to.
Especially when you already plugged in your mouse. Fortunately, Windows 11 provides you with a variety of methods to disable your touchpad so you don't accidentally move your cursor.You can also turn off the touchpad only when a mouse is plugged in.You can apply the same on Windows 10, but with a slightly different user interface.
How to disable touchpad on Windows 11
Open the search feature.
Or, press the Start button and start typing touchpad settings.Click Touchpad settings on the search result.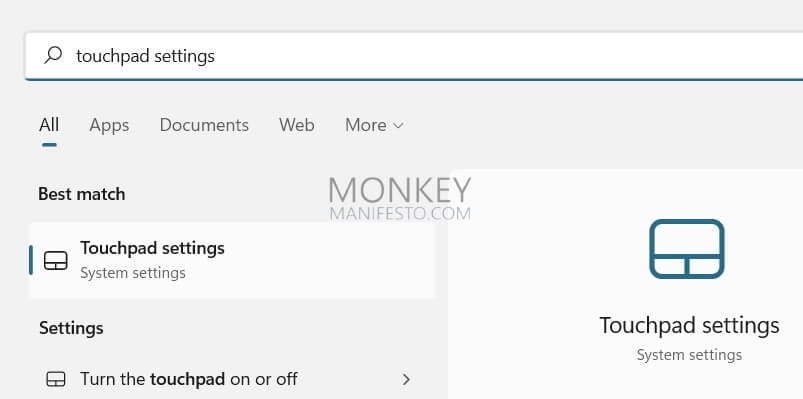 It will open the touchpad settings from the Settings app.Here, to disable the touchpad, simply set the toggle off on the Touchpad option.

RELATED: How To Fix "Start PXE Over IPv4" on Windows
How to turn off the touchpad only when a mouse is plugged in
Windows 11 also gives you an option to only disable the touchpad when a mouse is plugged in or connected to your laptop.
To do that, simply uncheck Leave touchpad on when a mouse is connected.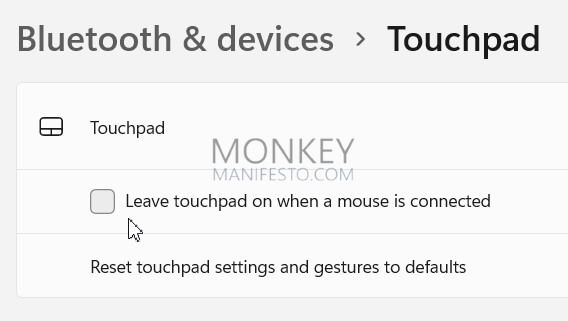 How to turn on the touchpad when it's disabled and you can't plug in a mouse
However, if you disabled the touchpad and you don't have a mouse, you can enable the touchpad back on by pressing the Start button, searching the touchpad settings, and using the Tab key on your keyboard to move the selection around elements, and then pressing Enter when it selects the expand (downright arrow).Press Enter again when it selects Reset.
How to disable the touchpad using Device Manager
Windows has the Device Manager.It does what the name says, and that includes managing the touchpad.
To open it, press Windows+X and select Device Manager.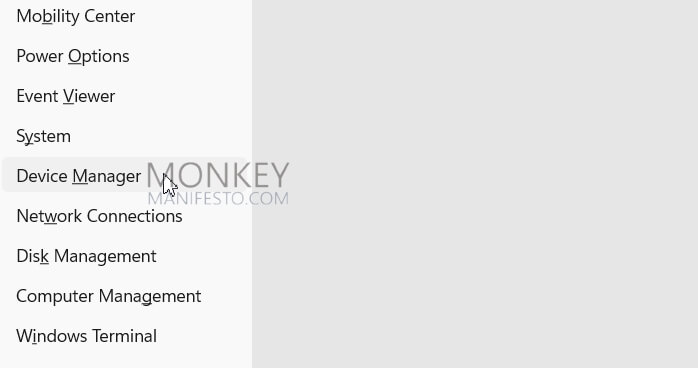 Expand Mice and other pointing devices.Right-click the HID-compliant mouse.Select Disable device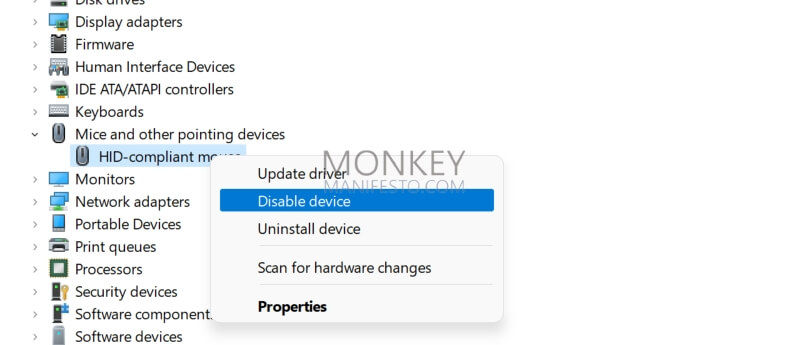 How to disable the touchpad using a keyboard shortcut
Depending on the brand and the model of the laptop you're using, you might be able to turn off the touchpad using just a keyboard shortcut.
It usually involves the Fn button+(F5,F6,F7,etc).Press the key combination and see if it disables your touchpad.
---
Windows 11 provides easy ways to disable your touchpad, including only when a mouse is connected.That makes it easier when you type, as it is difficult to prevent your hand from touching your touchpad when doing so. Thumbnail by
Cytonn Photography
RELATED: How To Disable Windows Defender