10 Best Android Launcher You Can Try to Upgrade Your Android Experience
One of the best ways to customize is by using Android launcher. But wait, there are lots of Android launcher, how do you choose one?
If you have one Android smartphone, you might one to customize your Android experience to make it easier to use.One of the best ways to customize is by using Android launcher.But wait, there are lots of Android launcher in the Play Store that you wonder what is the Android launcher that match your needs. That's why we write this article.
Here's a list of top 10 best Android launcher.Some of them are entirely free.Some of them has in-app purchase feature you might one to purchase.
#1 Nova Launcher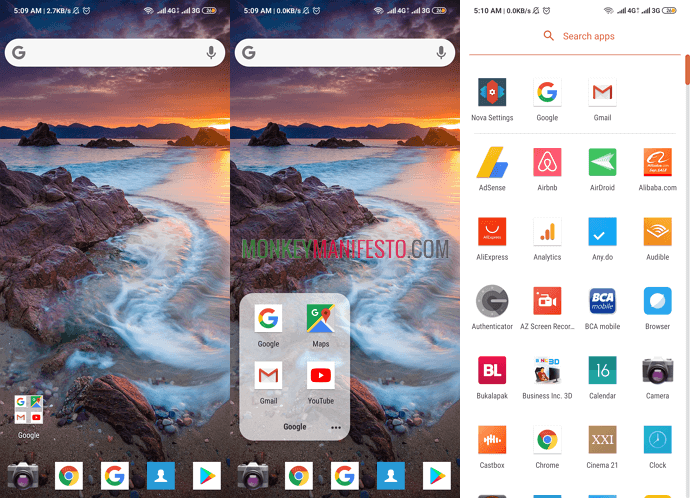 Nova Launcher is the best Android launcher in our review.
Nova provides unique, smooth UI, and easy-to-customize feature that make your life easier.It adapts to the newest Android's version so you will get Pixel appearance on your Xiaomi or Samsung device.
Download Nova Launcher for Android
#2 Microsoft Launcher
Microsoft has become a giant software company that ever created a failed yet legendary smartphone operating system, Windows Phone/Mobile.Now they get to Android ecosystem by creating variation of apps, and one of them is Microsoft Launcher. Microsoft Launcher doesn't provide you Windows Phone style interface.
It's actually a complete Android-native experience launcher, that will perform as the fastest launcher so you can get the smoothest experience using this launcher. The best thing about Microsoft launcher, is that it's personalized with your Microsoft Account.If you ever used this launcher, you could restore your backup in just a few clicks.We think this launcher app has the most beautiful widget interface we've ever seen.
Download Microsoft Launcher for Android
#3 Action Launcher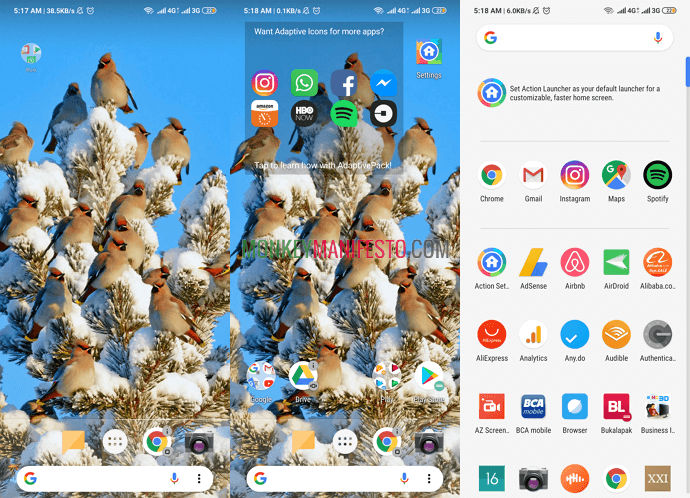 This launcher app can customize itself with the theme you're using.
It can make everything more colorful with its material design.The app has an feature that can change your wallpaper automatically, which is amazing if you're into slide wallpaper. The great thing about this app is that it allows you to import launcher settings from other launcher app.If you're using Apex launcher, you can export the settings and import them into Action launcher.
Download Action Launcher for Android
#4 Evie Launcher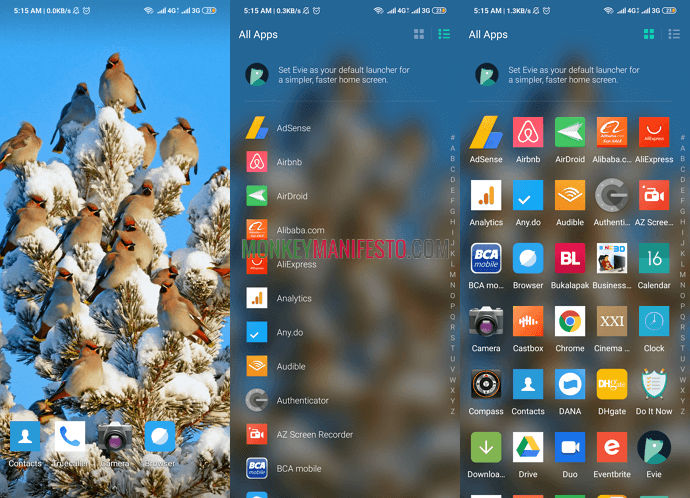 Here's another top Android launcher.
It's free yet elegant, simple yet stylish, and most sophisticated Android launcher ever existed.The default home screen, app drawer, and settings are for people who really demand simplicity.It's also beautiful launcher app.
Download Evie Launcher for Android
#5 Apex Launcher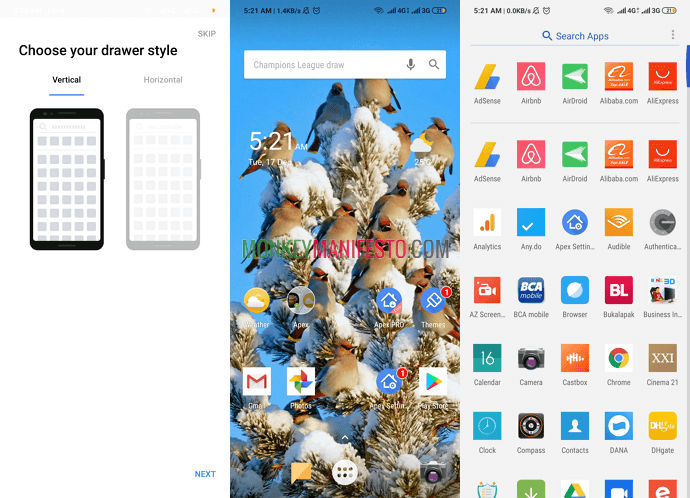 Apex is a launcher app that is really popular.
People love it because it's so simple and easy to use.The material design that it brings can be customized.There are also lots of icon pack and free themes that you can choose, and it will make your home screen experience better.
It also has 3D style that you can choose freely.
Download Apex Launcher for Android
#6 Rootless Launcher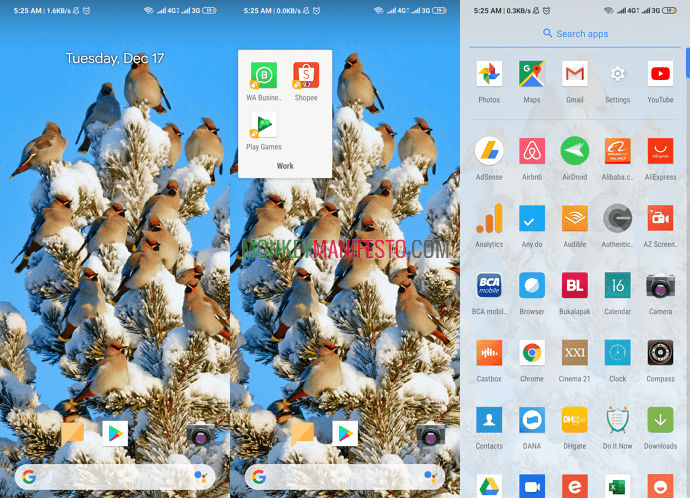 This launcher app is open-source and free.Rootless Launcher can be used in Android 5 to the newest one.It's amazing because not so many people use the latest Android version.
If you're using Android 5, this launcher could be the one you can choose. Rootless Launcher also provide slide wallpaper that changes automatically.This app works without the need to root your device, just like the name says.
Download Rootless Launcher for Android
#7 Smart Launcher 5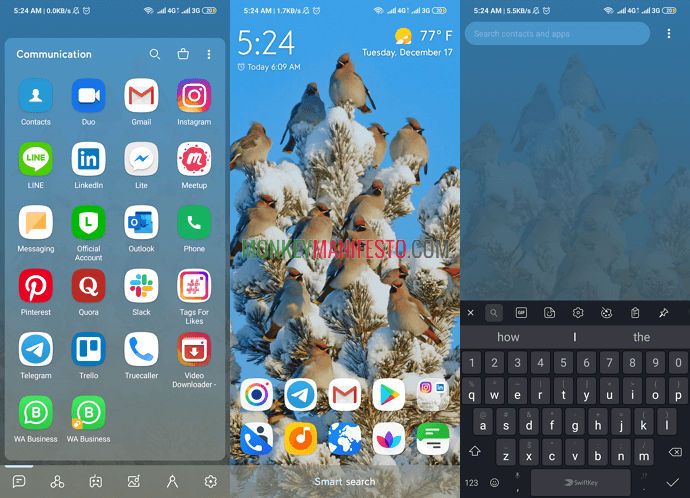 This is the most minimalist launcher app you can get from Play Store.It is so simple that it doesn't require RAM as much as other launcher app.
It's so native and has best design on it.The great thing about this app is that it's also can be customized. If you're into simple and minimalist launcher app, this app is the best.
Download Smart Launcher 5 for Android
#8 Launcher<3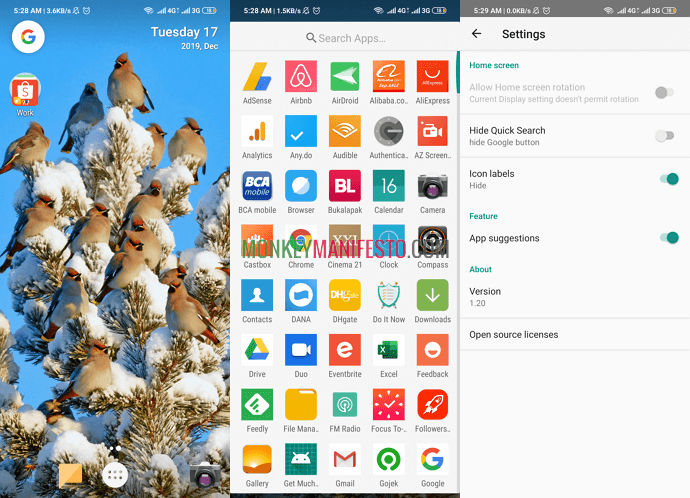 This app is also a native launcher app.Launcher<3 is free and can be customized easily.
It has the simplest material design ever.If you're still using Jelly Bean, KitKat, and other old Android version, this app is the best candidate.The developers of the app also remain to keep updating its features.
Download Launcher<3 for Android
#9 ADW Launcher 2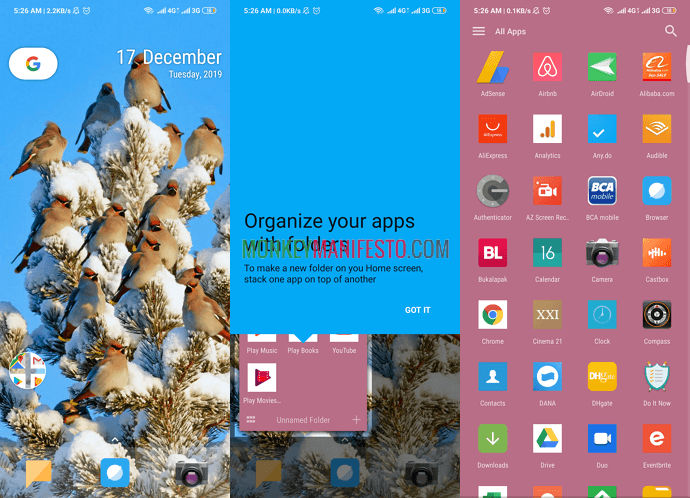 If you're a kind of user that likes to customize your Android, ADW Launcher 2 could be the best launcher you ever have.
This is the most advanced launcher app because it has many settings and configuration that most people won't understand easily, especially people who're new into Android. This app is free and you can download it on Play Store.
Download ADW Launcher 2 for Android
#10 Apus Launcher
If you're kind of user that doesn't want complicated features, this launcher app is for you.Apus Launcher has no unnecessary features that most people won't use in daily basis.The best thing about this app is that it automatically categorizes app in group that the app creates itself. I think this app is the simplest Android launcher because it's to-the-point features.
It has the latest Pixel experience even if you don't use Pixel.
Download Apus Launcher for Android
---
Having a great launcher app can help your productivity in the long run.Especially if you're using your smartphone way too much that you can't handle everything in your phone with your default OS launcher.That's why we help you to choose the best one.
RELATED: Best Android TV Launcher