How to Delete Your Amazon Account (or Seller Account Only)
Amazon is popular marketplace in the world. But it doesn't provide simple account deletion button. Here's how to delete your Amazon account.
Amazon is really popular all over the world, especially in the US.With huge market potential, Amazon yet still doesn't provide a simple way for users to close their accounts. It is really confusing and frustrating for most people.Here's how to delete your Amazon account (or seller account only). Amazon has the marketplace as its main product.
You can shop anything and ship anywhere.You can delete the order or purchase history in Amazon completely by deleting your account.But how easy it is? Well, it is a little complicated.
Why Amazon Make It Hard to Delete Account
You see, Amazon is growing faster with very huge market potential all over the world.
They don't want their retention rate to decrease just because of the easy method for users to delete their Amazon account. They want the company to increase without having to be stressed more about losing a lot of users that already signed up.But you want to get rid of your personal information on Amazon. There are many reasons for these, but the above can sum up everything.If you subscript for Amazon Prime, canceling it is also a bit of a headache. The same applies if you have and want to delete your Amazon Seller account, Alexa account, Audible account, and more.
RELATED POST: How to Logout of Amazon Prime on TV
Why You May or May Not Need to Delete Your Amazon Account
Amazon has many products and the marketplace is the main one. If you delete your Amazon account, you will also lose your Amazon-related accounts like Kindle, Alexa, Audible, Amazon Seller, and more -- digital content and all of its data like the Kindle books you've bought.
It includes your account on the country domain (like amazon.co.uk). There's no real explanation whether you can undo your account deletion or not.But, most deletion account on a platform usually occurs permanently.This means you close your Amazon account permanently, and most likely you can't undo that. However, you can still create a new Amazon account again with a different email address (but we still don't know if you can submit the payment method with the same card). If you're still waiting for your product delivery or refund process, it will be stopped once you delete your Amazon account.
You will also lose your reviews you've written on Amazon products you've purchased, including the Amazon gift cards. To put it simply, you'll lose access to all of your data on almost all Amazon products.If you own Amazon Web Service and Kindle Direct Publishing accounts, you'll probably need to contact their CS to learn more about whether your account in these two products can be deleted separately or not. If you really want to delete your Amazon account and want to lose your data on almost all Amazon products, you can do the next step.
How to Delete Your Amazon Account on Website
Deleting an Amazon account isn't easy.But, you can still do your best on it.
You can do this on the Amazon website on PC, Mac, Android, or iPhone browser. Open the Amazon website, and log in to your account. Scroll at the bottom, click Help at the Let Us Help You section.

Now, a new page will load.Hover your mouse at Need More Help? button, and then tap Contact Us.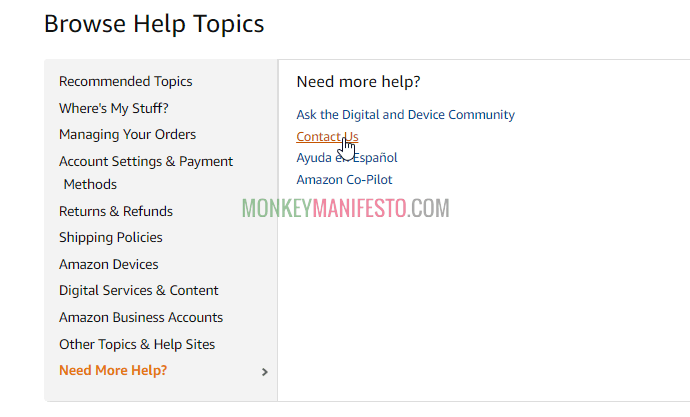 You may need to login into your Amazon account again.
Then, a page will load.Click Prime or Something Else.

A page will then load again.
Click Login and security at the combo box or the drop-down menu in the Tell us more section.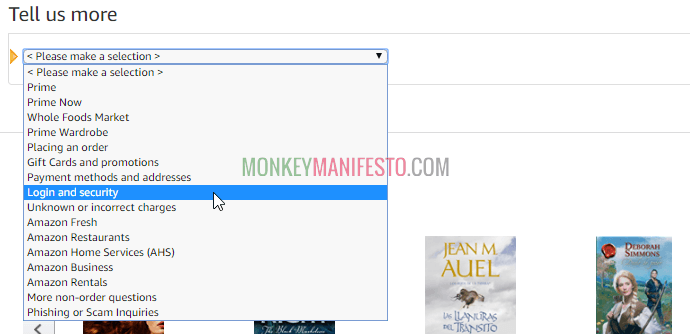 Now, choose the Close my account option to load a page where you can delete your Amazon account.

Now, you will see three methods to delete your Amazon account:
You can click one of the buttons to contact Amazon to ask for account deletion.This isn't a simple process.Amazon may refuse your account deletion due to some reasons. If you don't see the Email, Phone, Chat button to be able to be clicked, you probably need to wait sometime.
How to Delete Amazon Seller Account Only
If you do sell on Amazon you have an Amazon Seller Central account.
This is a different type of Amazon account if you want to sell on the marketplace instead of shopping. However, some people might want to stop selling and want to close their Amazon seller account. You can do this easily.Open this Amazon page.You may need to login to your account first.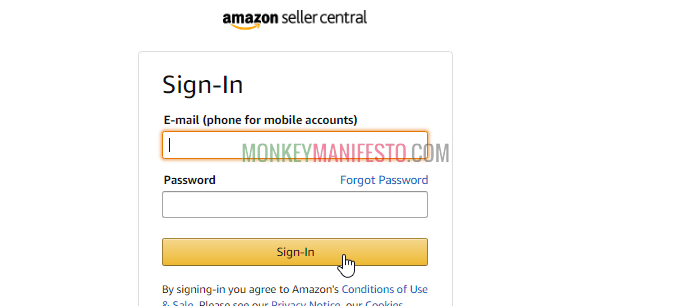 Click Your account.
Choose Close your Account. Now, you need to fill the blank form.Once done, click Submit Request. Amazon will then send a reply email on your account deletion request.Amazon may refuse your request due to some reasons.
---
Amazon has a complicated, frustrating way to delete accounts.
This complicated method may change in the future, but the uncertainty may not stop you from deleting your Amazon account right now, and that's fine. You can delete your account by using the above methods, just remember that you'll lose your account settings, account data, and accounts related to Amazon.
RELATED POST: How to Delete Alexa Voice Recordings