How to Enable Dark Mode in WhatsApp Android/iPhone
WhatsApp has released dark mode at March 3 2020. You can use that dark mode in WhatsApp right now, and here's how to enable dark mode in WhatsApp.
WhatsApp finally released the dark mode for WhatsApp and WhatsApp Business, at March 3 2020.WhatsApp dark mode is available for Android as well as iOS on iPhone/iPad.Along dark mode, you can still choose light mode if you want to keep the original theme in WhatsApp.
But WhatsApp dark mode is cool, and good for your eyes at night. In this article, we're going to cover how to enable dark mode in WhatsApp.
WhatsApp Dark Mode is Perfect and Look Totally Great
WhatsApp, the chat app that is used by over a billions of people across the globe, has perfect dark mode that look amazing to the eyes.The dark mode filled all the white background you used to see, without making everything look flashy and uncomfortable, unlike some other apps that has automatic dark theme which make some part of its element way darker/lighter than it should. Dark mode in WhatsApp looks similar to Telegram's.But in WhatsApp, dark mode looks so polished and customized on its own.
They even made the green background of every message you sent darker, and different than when you use light theme, which looks great for the eye.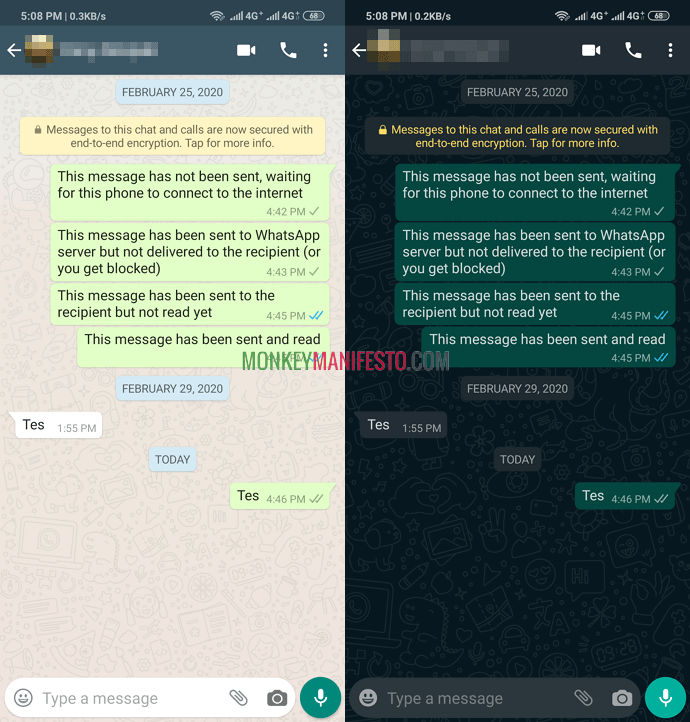 ALSO READ: WhatsApp Check Marks Meaning
Amazingly, the default wallpaper of WhatsApp is also turned dark.If you see more small detail on dark mode for WhatsApp, the first yellow message about WhatsApp encryption feature, its background turned dark instead of keeping the yellow background.
There are probably more small details you can find on dark mode for WhatsApp when you try it yourself.Here's how to enable dark mode in WhatsApp.
How to Enable Dark Mode in WhatsApp/WhatsApp Business
To enable dark mode in WhatsApp or WhatsApp Business, just open the app. Go to CHATS tab, and then tap that three dots button at the corner.
Tap Settings.
Then, tap Chats.On the Display, tap Theme.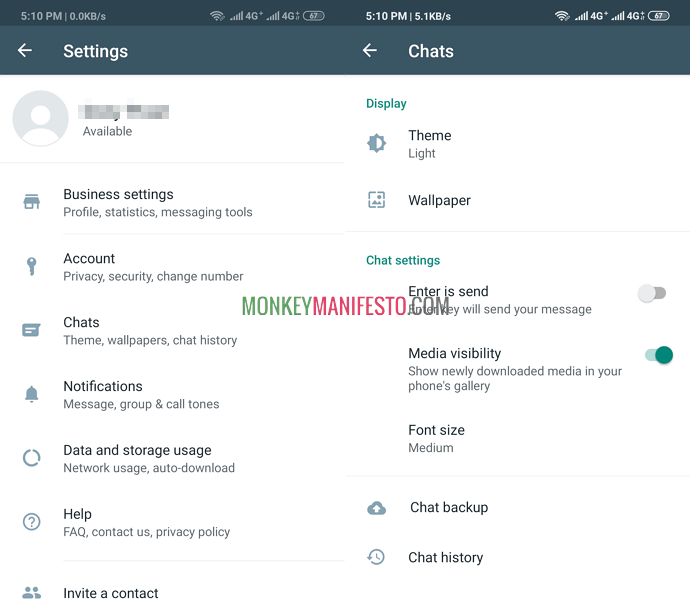 Now, you can select whether you want dark theme or light theme.
ALSO READ: How to Read Deleted WhatsApp Message
To enable dark mode, just Dark.Tap OK.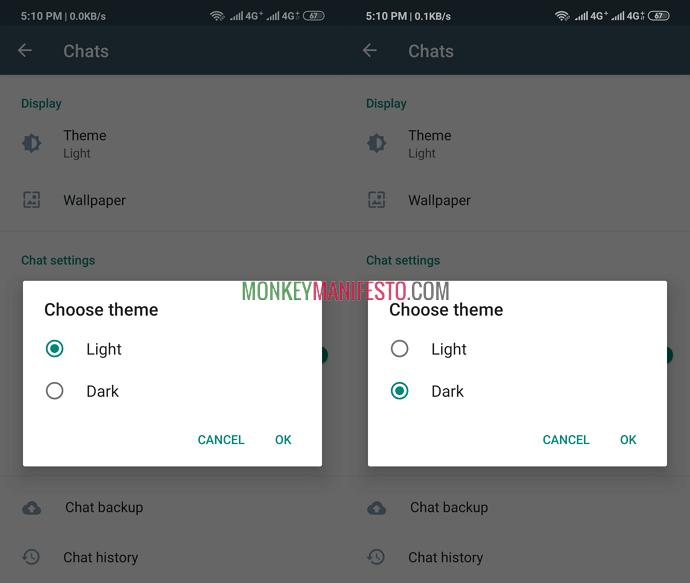 Now, WhatsApp will apply the selected theme/mode you chose, without even the need to restart WhatsApp.
The Simplicity of WhatsApp Dark Mode
Dark mode in WhatsApp is simple, and you can't customize yourself to choose the accent color and background color.
Unlike Telegram, you can't choose many more themes other than these two dark and light theme/mode in WhatsApp.But, in WhatsApp, you can still customize appearances like font size and wallpaper.
---
WhatsApp dark mode has been released and you can change the light mode to dark mode easily right now, with the latest WhatsApp version.If you want to enable dark mode in WhatsApp, you have to download the latest updates from Play Store or App Store if you use iPhone. You can also
enable dark mode on Twitter
.
ALSO READ: How to Recover Deleted WhatsApp Message