How to Install WhatsApp for PC
Windows 11, Windows 7, Windows 8.1, or any PC can use WhatsApp just like the mobile version. Here's how to install WhatsApp on a PC.
When using WhatsApp on your Android or iPhone, you may perhaps wonder how to install WhatsApp for PC, since you're also working across different kinds of devices.From smartphone to PC and vice versa, changing devices constantly won't hurt your WhatsApp experience. WhatsApp has a lot of simple features, from creating WhatsApp stickers, stories, and more.But, if you never installed the app, you perhaps wonder how you can start using and installing WhatsApp on your device. Installing and using WhatsApp could improve your productivity, especially when you do it across all devices, including Windows 10 PC.
WhatsApp support Windows 10, Windows 7, Windows 8.1, or even Windows Vista, so you can message your friend and family through it. If you use WhatsApp Web, you may perhaps encounter a different experience in the web browser.WhatsApp for PC actually has the same features as WhatsApp Web, but that doesn't mean you should not use the standalone WhatsApp program on your computer.It's actually easier to use because you don't rely on a web browser anymore. Most people, who aren't tech-savvy perhaps have some thought about using BlueStacks.
Well, you don't really need BlueStacks or YouWave or any other Android emulator out there anymore only to install and use WhatsApp on a PC.You can download WhatsApp for PC, whether you're using Windows 10 or Windows 7, or even Mac. In this tutorial, we're going to cover how to install WhatsApp for PC across all platforms.
ALSO READ: Best WhatsApp Sticker Pack App
How to Install WhatsApp on Windows 11
In this section, you're going to learn how you can install and set up WhatsApp on Microsoft's latest operating system Windows 11. Windows 11 has Microsoft Store, it's like Play Store but on PC and has many apps that can be used across Microsoft devices, including Windows Phone.You can download WhatsApp official app from there, it's a free download! To do this, open Microsoft Store.
Make sure you've created and signed in to Windows 11 using your Microsoft account, otherwise you can't use Microsoft Store and therefore you can't install WhatsApp on Windows 11. After you open the app, you will see a lot of apps you can download for free.Including WhatsApp. To get WhatsApp for Windows 11, you probably have to search it on the search bar.

Now, click WhatsApp Desktop in the search result.

It will show the entire information about the WhatsApp Desktop app.To download WhatsApp Desktop for Windows 11, just tap Get or Install.
Now, you just start the process of downloading the app.

Microsoft Store will download WhatsApp for Windows 11 for about minutes.Depends on your internet connection speed.

Once it's done, open the app and it will show a QR code that will let you log in to WhatsApp Desktop through your phone.
ALSO READ: How to Use WhatsApp for PC
Open your WhatsApp mobile app.Then tap the three-dot button at the corner, tap WhatsApp Web. Then, it will scan the QR code and sign you into WhatsApp.
You can now start messaging people directly from your computer. Unfortunately, you can't log out from WhatsApp while using WhatsApp on your PC.But, you can still log out from WhatsApp with our simple steps.
How to Install WhatsApp on Windows 7, Windows 8.1, or Older Windows Version
Even though Windows 8 and Windows 8.1 have Microsoft Store that will let you download the WhatsApp Desktop app directly, I don't really recommend you install WhatsApp from Microsoft Store in the older Windows versions.
ALSO READ: How to Backup WhatsApp
To download this version of WhatsApp, click here. Amazingly, WhatsApp also provides all the links across all platform on one page.If you want to install WhatsApp on Android, iPhone, or Mac, you can download it for free there. To download, just click Download for Windows 11 (64-bit) or any Windows version you see there, it will automatically detect your Windows version and its architecture whether you use 32-bit or 64-bit. Once the download process is done, click and run the setup app.
It will automatically install everything.

Now, click Setup. You will a popup like this.Just wait some minutes.It is being installed. Now, it will show QR code.
Just scan it using your WhatsApp mobile app.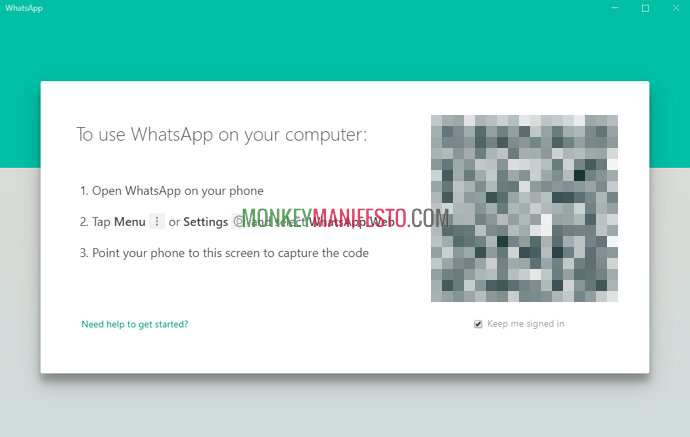 To do that, open WhatsApp on your Android/iPhone.Then, tap the three dots button.Tap WhatsApp Web, and then scan the QR code. That's it.
That's how you install WhatsApp on Windows 7, Windows 8, and Windows 8.1.
If You Don't Want to Use WhatsApp as a Program or UWP App, Just Use WhatsApp Web
WhatsApp Web offers a different method to use the app, and it requires a web browser.This means, you probably won't get a notification unless you open the tab on the browser.You also have to keep that tab open to keep using WhatsApp. To do this, just open WhatsApp Web: https://web.whatsapp.com/ Login by scanning the QR codes.
Again, open your WhatsApp mobile app, tap the three-dot button, and tap WhatsApp Web.Scan the QR codes. That is it.
ALSO READ: WhatsApp Web Tips and Tricks
Can You Install WhatsApp on PC Without Phone and Without QR Code?
If you wonder whether you can install WhatsApp without a phone or without a QR code, you can't.Simply because WhatsApp just doesn't allow it due to security issues.
---
You can learn how to install WhatsApp on a PC in two ways.
Those can be easily done using the above methods.