How To Link Your Twitter and Facebook Accounts
Link your Twitter and Facebook accounts together to save more time. Read this quick guide to do it easily.
Linking Twitter and Facebook can be an effective way to share tweets and posts between the two platforms. Manually posting to each social media takes more time than posting a tweet or a post for both social media.
Linking allows you to cross-post between the two platforms, saving you time. Cross-posting means you post the same thing on Facebook and Twitter at the same time.
It also allows you to tap into a larger audience by reaching people who use both social media sites, which can be beneficial if you're a digital marketer.
How to link your Twitter account with Facebook
You can link your Twitter and Facebook accounts by using a tool such as Circleboom. You can also use IFTTT to automate posting between the two social media, for example, tweeting a link after the same one has been posted on your Facebook page.
Link Twitter and Facebook using Circleboom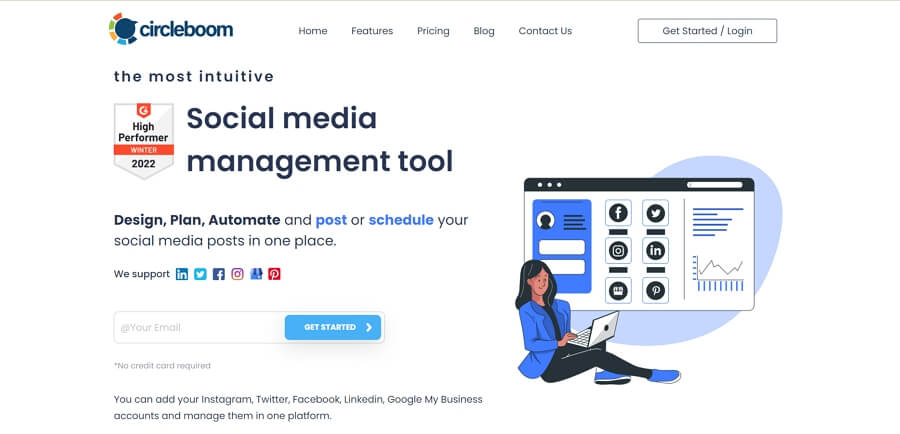 Linking Twitter and Facebook manually can take a lot of effort. There's actually an easier way to do so. With Circleboom, you can connect your multiple Twitter and Facebook accounts (pages and groups) to Circleboom Publish's comprehensive, easy-to-use dashboard and make operations for both of them from the same place and at the same time.
Circleboom Publish is a social media management tool that you can create, design, share, and schedule all your social media posts from one place. Thanks to its built-in tools, Canva, Unsplash, and Giphy, it is easy to effectively curate and design social media content.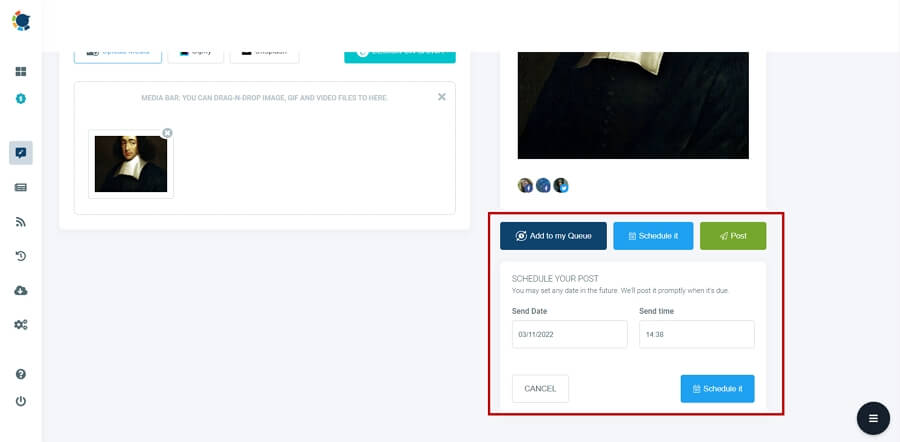 They provide unique social media templates, stock images, gifs, animations, filters, effects, fonts, and other elements to enrich your social media content. You can also customize your template or simultaneously upload your domestic file to share on Twitter and Facebook.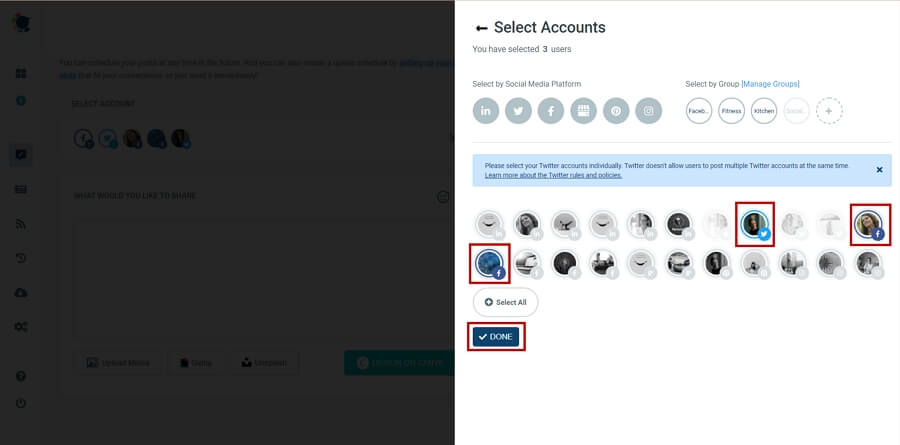 On Circleboom, you can find the easiest way to link to Facebook and Twitter. All you need to do is select your Twitter and Facebook accounts connected to Circleboom and create your post. Then, you can share them immediately, or you can schedule them for a later date and time. Additionally, the queue scheduling feature allows users to set time intervals and send their posts continuously.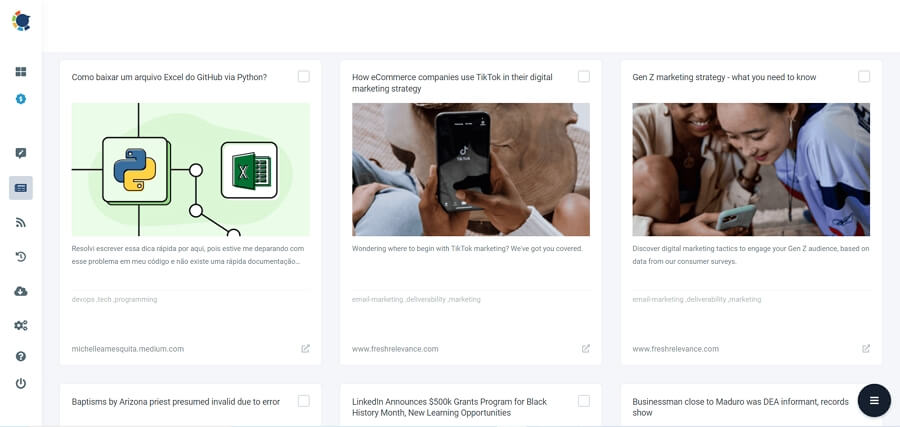 You can automate your posts for Twitter and Facebook. Connect multiple RSS Feeds to your multiple Twitter and Facebook accounts and keeps them simultaneously posting even while you are taking care of your other social media channels.
Also, the "Article Curation" feature enables you to set your interests and find related articles from globally reputed magazines and journals, then share them with your Twitter and Facebook friends. Circleboom Publish also supports Instagram, Pinterest, LinkedIn, and Google Business Profile.
Link Twitter and Facebook using IFTTT
IFTTT is a third-party service that can connect between apps, services, social media, and more. You can basically use IFTTT to link Twitter to Facebook and vice versa, with additional linking to Instagram and even a lot more social media you can connect to at the same time.
This is a great tool for many influencers, bloggers, social media agency, online businesses, or anyone else who really want to cross-posting between Twitter and Facebook basically in every way. If you're an individual, you can use Twitter to make money.
Not only can you link Twitter and Facebook to cross-posting, but also do something on both platforms that are triggered by an action you do on one platform.
For example, you can change your Twitter photo profile automatically after you change your Facebook photo profile with the same picture.
To link these social media apps, you have to download the app first.
Once you download the app, open it and sign in with your account. If you don't have one, you can create a new one pretty easily.
Now choose Get More to choose which service you want to connect.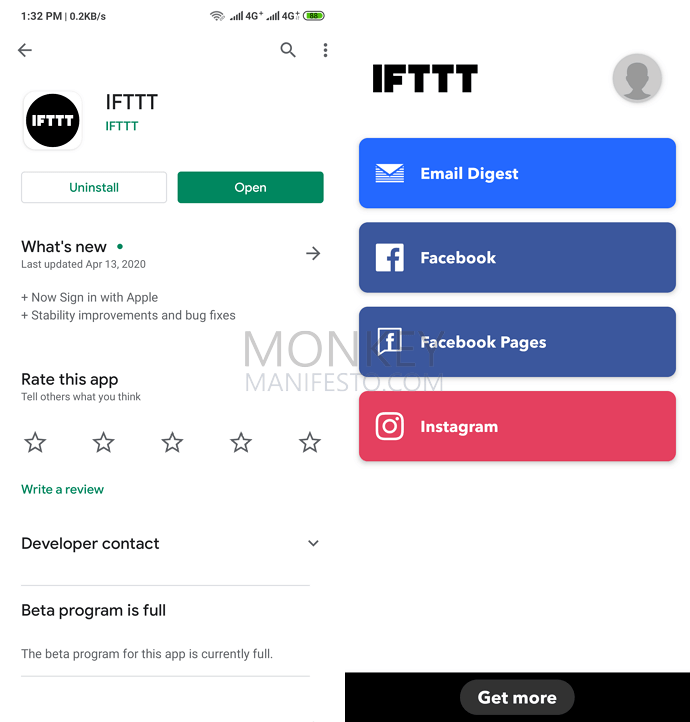 Now, search for Twitter. Tap Twitter in the search result.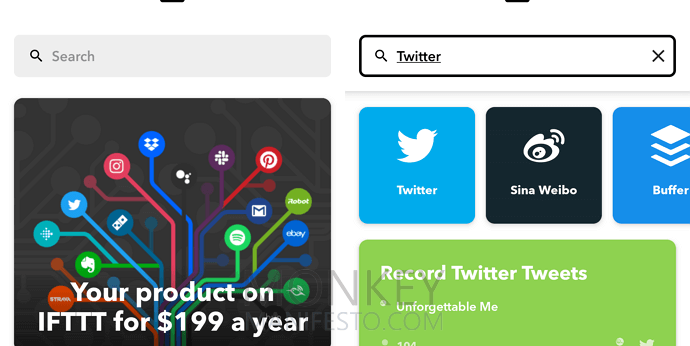 Search for an applet. An applet is a thing that links Twitter and Facebook. It is composed of triggers and actions, and they're all different there. You can choose between triggers and actions pretty much anything.
Once you find one, tap it and tap Connect.
You will now need to authorize IFTTT to access both your Twitter and Facebook.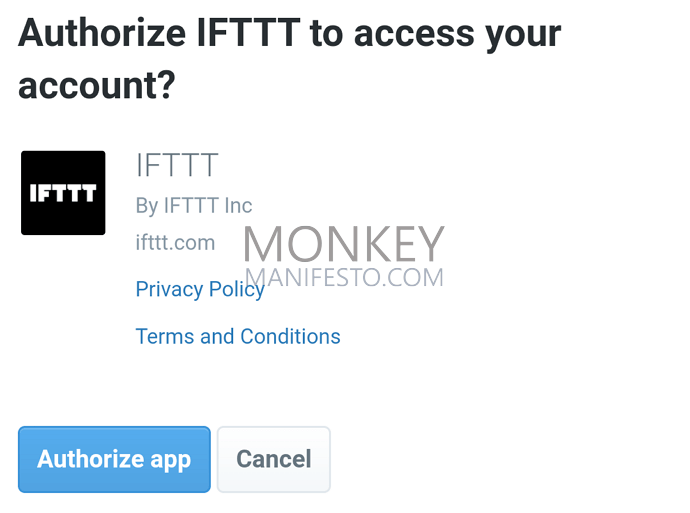 When you have successfully authorized IFTTT to link your Twitter and Facebook accounts, the applet will change automatically from Disconnected to Connected.
If you still want to learn more, read on.
RELATED POST: How to Send Voice Tweets
How to connect Facebook to Twitter for cross-posting
You can choose how many triggers and actions you want to use. On the mobile app of IFTTT, you can use choose Facebook on the front page. Tap Get more to see more applets of Facebook, which eventually will link to your Twitter account.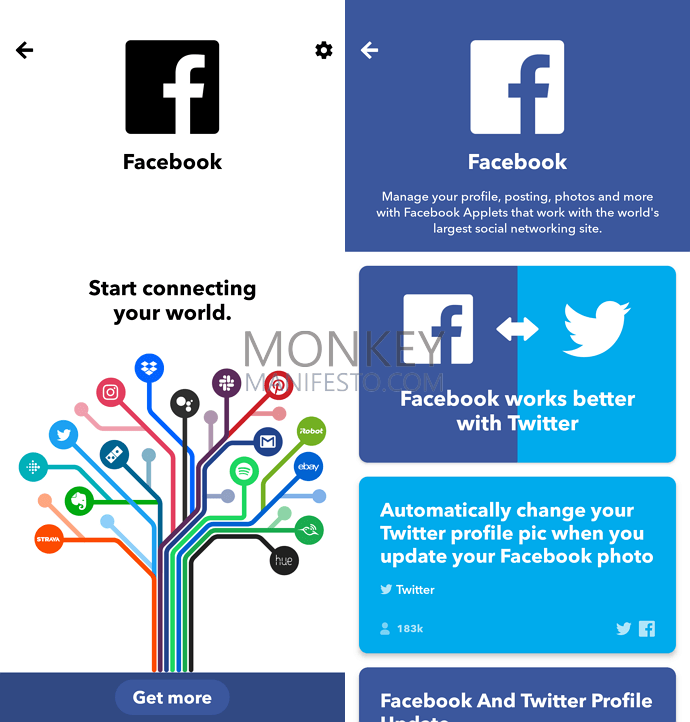 Now, while you can choose different kinds of triggers and actions, you probably want more to cross-posting between Twitter and Facebook. Look for "FB Status Update to Twitter", or basically any applets that link between the two. Tap Connect.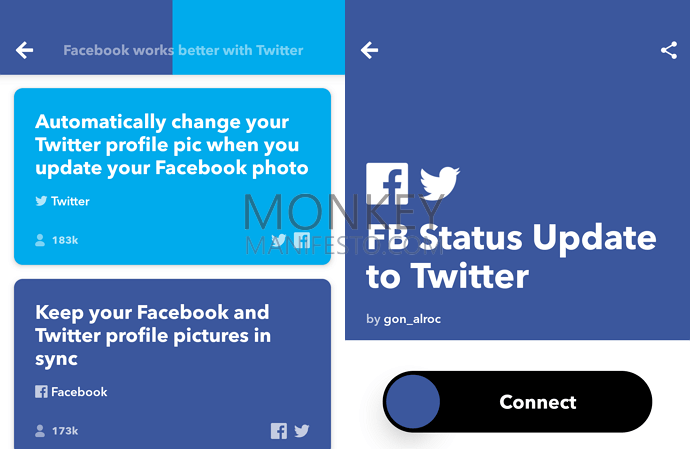 If you've authorized IFTTT to link to Twitter and Facebook, you will see the button will turn automatically to "Connected". You can tap the gear icon to change the setting of your applet.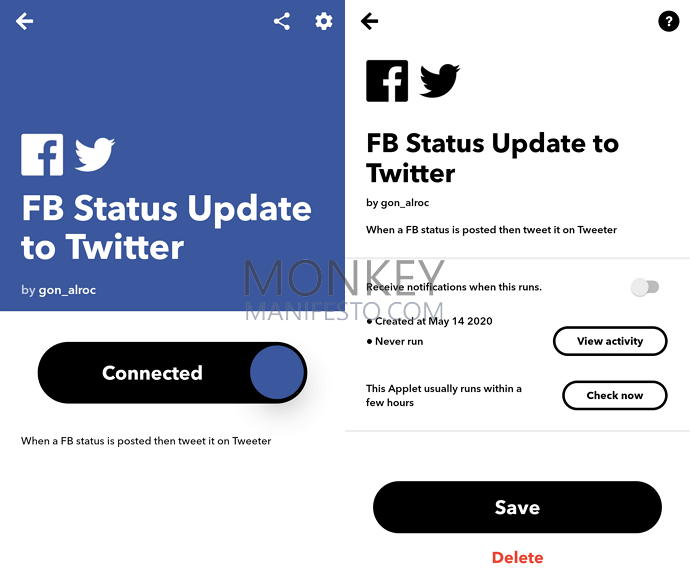 To unlink Twitter from Facebook on this applet, you can tap Delete. Then, tap Delete to confirm.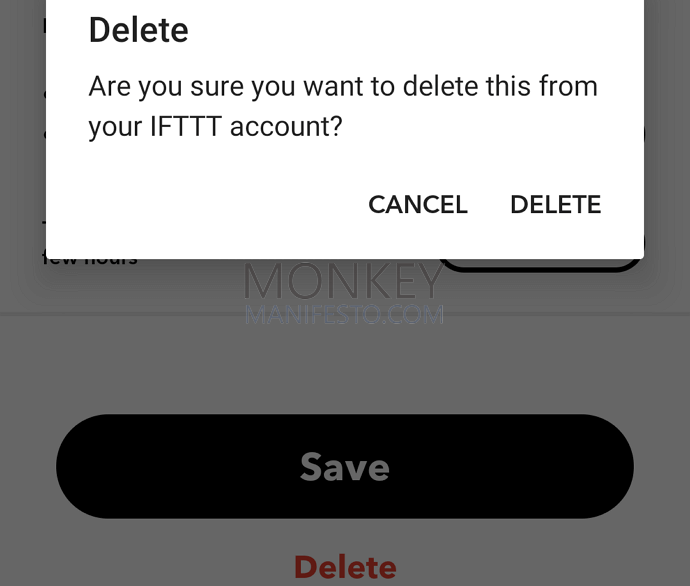 Connect Twitter to your Facebook page
Connecting Twitter to your Facebook page helps to automate posting. The Facebook page has its own section on the front page. If you don't have one, search by tapping Get more, then search the Facebook page. If you have already, tap Get more.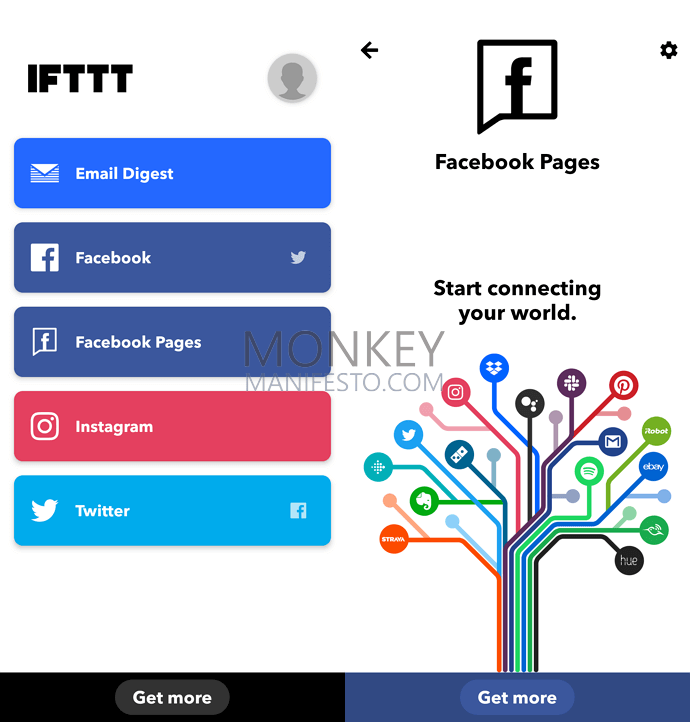 Now, you can basically link your Facebook page to any social media as many as you want. Including Twitter. You can even link the two with Instagram, too, at the same time.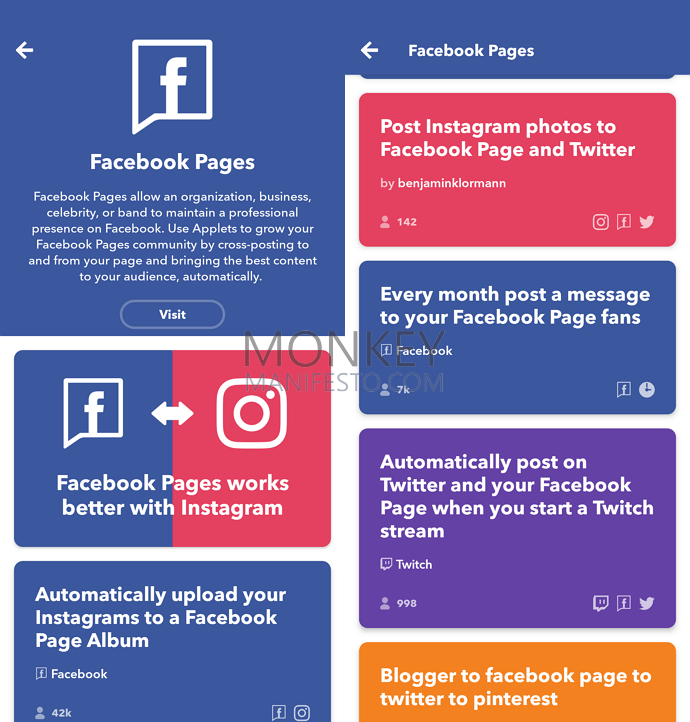 I've found an applet that allows my Instagram account to post Instagram photos to my Facebook page and Twitter. Tap Connect, and make changes to the settings. Tap Done.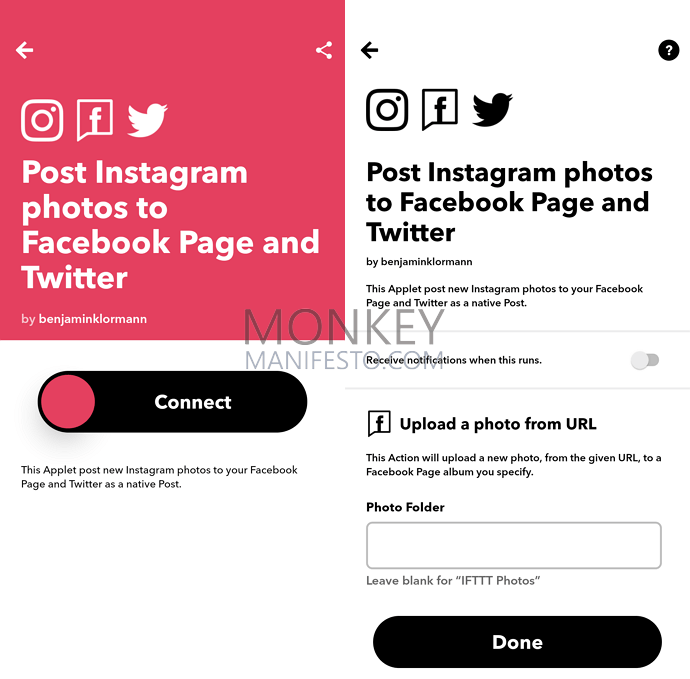 The applet will turn automatically to "Connected", meaning my Instagram account will automatically post pictures to Twitter and Facebook after I upload a new picture.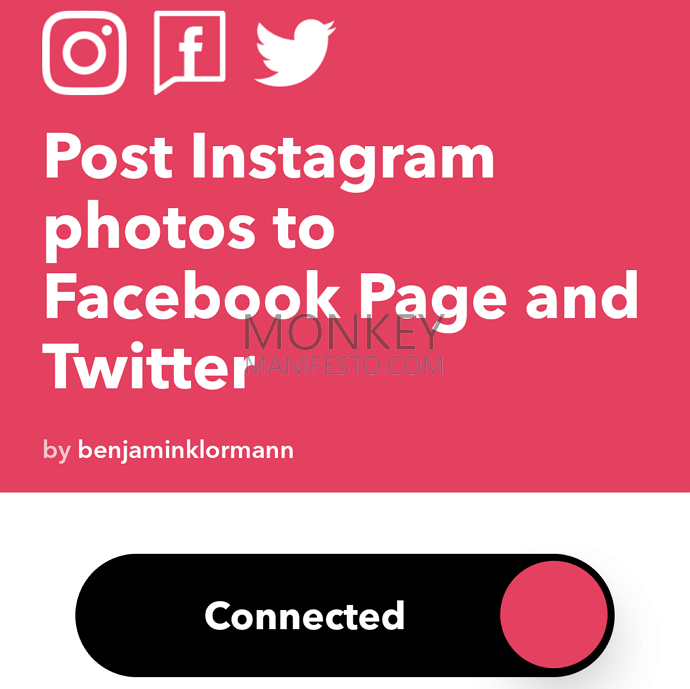 Find more applets
You can do more with Twitter and Facebook using more applets. You probably wouldn't find more applets on IFTTT mobile app. But, you can by using its desktop browser version.
Visit the website, log in with your account, and start linking Twitter and Facebook with more applets.
You can also create your own pretty easily if you want.
---
It turns out that linking Twitter and Facebook isn't so hard. Now we have an app that can do it all together at the same time. This is amazing and can save a lot of time, without you using both of the social media and posting the same picture manually.
RELATED POST: What Does This Tweet is Unavailable Mean?