How To Uninstall FACEIT Properly and Completely (Windows 11/10)
If you don't want to play games with FACEIT anymore and have trouble removing it from your computer, don't worry. Here's how to uninstall FACEIT properly and completely.
If you're looking to play games more competitively, you may have come across FACEIT. FACEIT is a third-party match-making service that is used to play more competitive games on a number of popular games, such as PUBG and CSGO, and it also works as an anti-cheat software.
While FACEIT can certainly up your game, you may encounter some problems when uninstalling it, such as FACEIT notification sounds still being heard during Windows 11/10 startup, which means that FACEIT is still installed somewhere on your PC.
Fortunately, there are some steps you can take to uninstall FACEIT completely from your computer.
How to uninstall FACEIT completely
To uninstall FACEIT completely, you have to do the usual uninstallation from the Control Panel/Settings. Then, delete the Update.exe from your AppData/Local folder. Lastly, disable the startup for Update.exe on Task Manager.
Do this consecutively, and FACEIT will be removed completely. This post will explain the process in detail, step by step below:
Uninstall FACEIT through Control Panel
FACEIT has an uninstaller that lets you remove FACEIT from your PC, and the process is similar to uninstalling other programs. The only difference is to uninstall FACEIT, you don't have to do anything after clicking "Uninstall".
Open Control Panel. You can do it by opening the Start menu, searching "Control Panel", and selecting "Uninstall a program".
Scroll down under "Uninstall or change a program". Click FACEIT. Select "Uninstall".
FACEIT will then be removed immediately, which takes only a few seconds.
The first step of uninstalling FACEIT is done. Now, you need to delete the Update.exe, which runs during startup. This EXE application is used to automatically check for updates, opening after you turn on the computer. This is why you'd still hear a notification sound after uninstalling FACEIT.
The solution to this is simply to remove the Update.exe files, along with other remaining FACEIT files on AppData/Local folder.
Remove the FACEIT Update.exe on your AppData folder
Before removing, ensure Update.exe isn't running on your computer. You can check that on the Task Manager.
To open Task Manager, right-click the Start menu, and select "Task Manager". Under "Processes", ensure Update (with FACEIT icon) isn't visible. If visible, click it and select "End task".
Now, go to the Startup tab. Right-click "Update", and select "Open file location".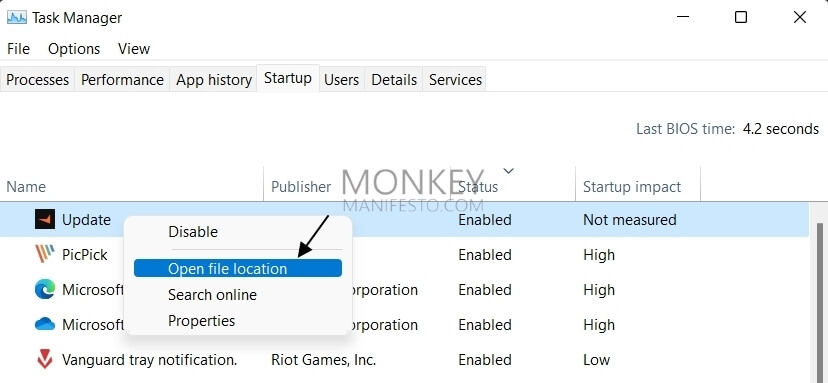 This opens the folder location of the Update.exe. Go up by clicking Local, as you need to remove FACEIT folder to completely uninstall FACEIT.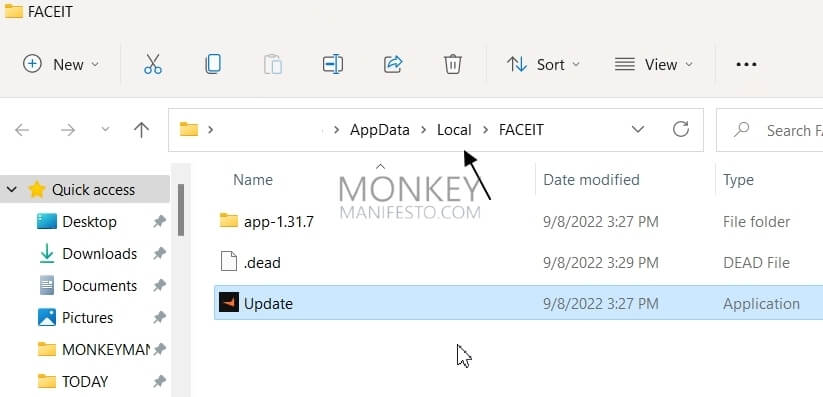 Select "FACEIT" folder, right-click, and select "Delete".

You can also permanently delete the folder by pressing Shift+Delete, and click "Yes".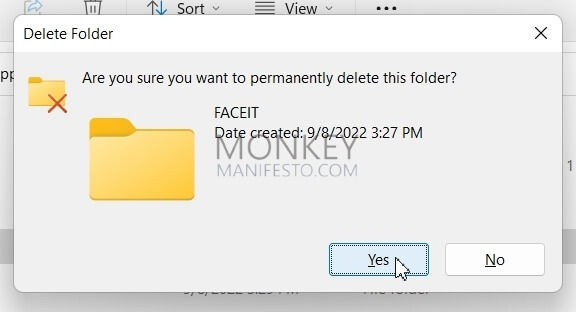 Prevent the Update.exe running during startup
The second process is completed. But, the Update.exe is still listed on the Startup on the Taskbar and is still enabled. You need to delete it to prevent it from opening during startup.
To do this, open the Task Manager. Select "Startup" tab. Right-click on Update, and select "Disable".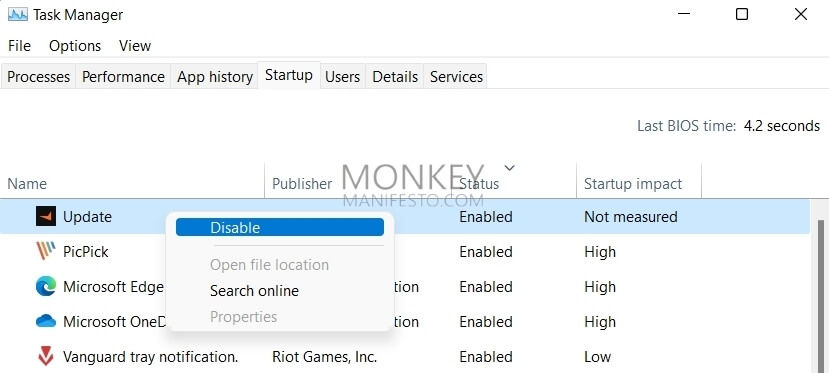 Finally, restart your PC. FACEIT is now uninstalled completely, and you won't hear its notification sound during startup, as the remaining application (Update.exe) has been deleted.
---
Deleting FACEIT can be done in a few simple steps, including removing some leftover files after uninstalling FACEIT from the Control Panel, which, fortunately, is also easy to do.
RELATED: How To Uninstall Riot Client