How to Fix Instagram Stories/Posts Not Sharing to Facebook
Instagram lets you upload posts and stories automatically to Facebook. But it's not always working.
Instagram lets you automatically share your Instagram posts and stories to Facebook. Instagram gives you the feature directly within the app, and once you have connected your Facebook and Instagram accounts, everything you post on Instagram is posted on Facebook instantly.
However, some users reported that they stop seeing their Instagram posts on their Facebook profile (or page), as the sharing feature stopped working, causing their Instagram apps to stop sharing their new posts on Facebook.
About Instagram sharing to Facebook feature
Instagram introduced a feature that lets you link Instagram to Facebook. When the feature is turned on, any post or story you upload to Instagram will also be uploaded on Facebook instantly. An Instagram post will be a Facebook post, and an Instagram story will be a Facebook story.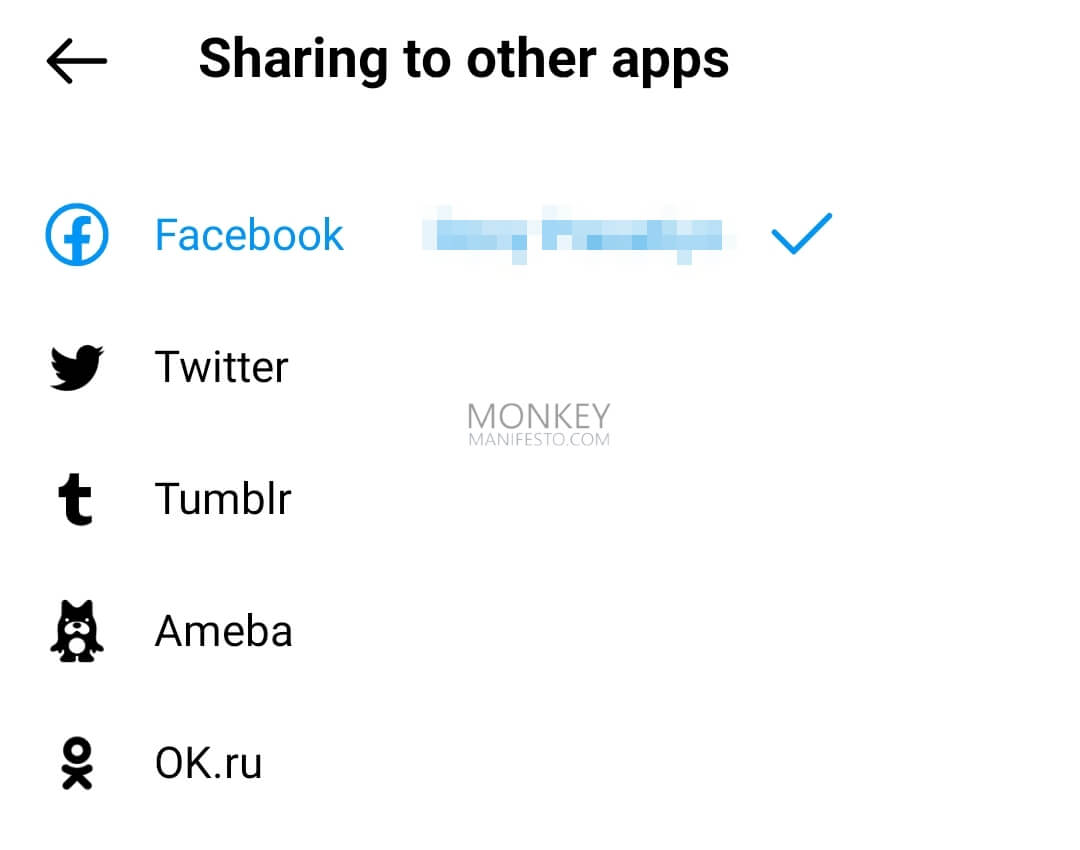 This feature can be turned on by accessing Settings > Account > Sharing to other apps > Facebook on the Instagram app. Tap Facebook, sign in to Facebook, and allow authorization. Blue toggles on "Your Instagram Story" and "Your Instagram Posts" mean the sharing feature is turned on for Instagram posts and stories.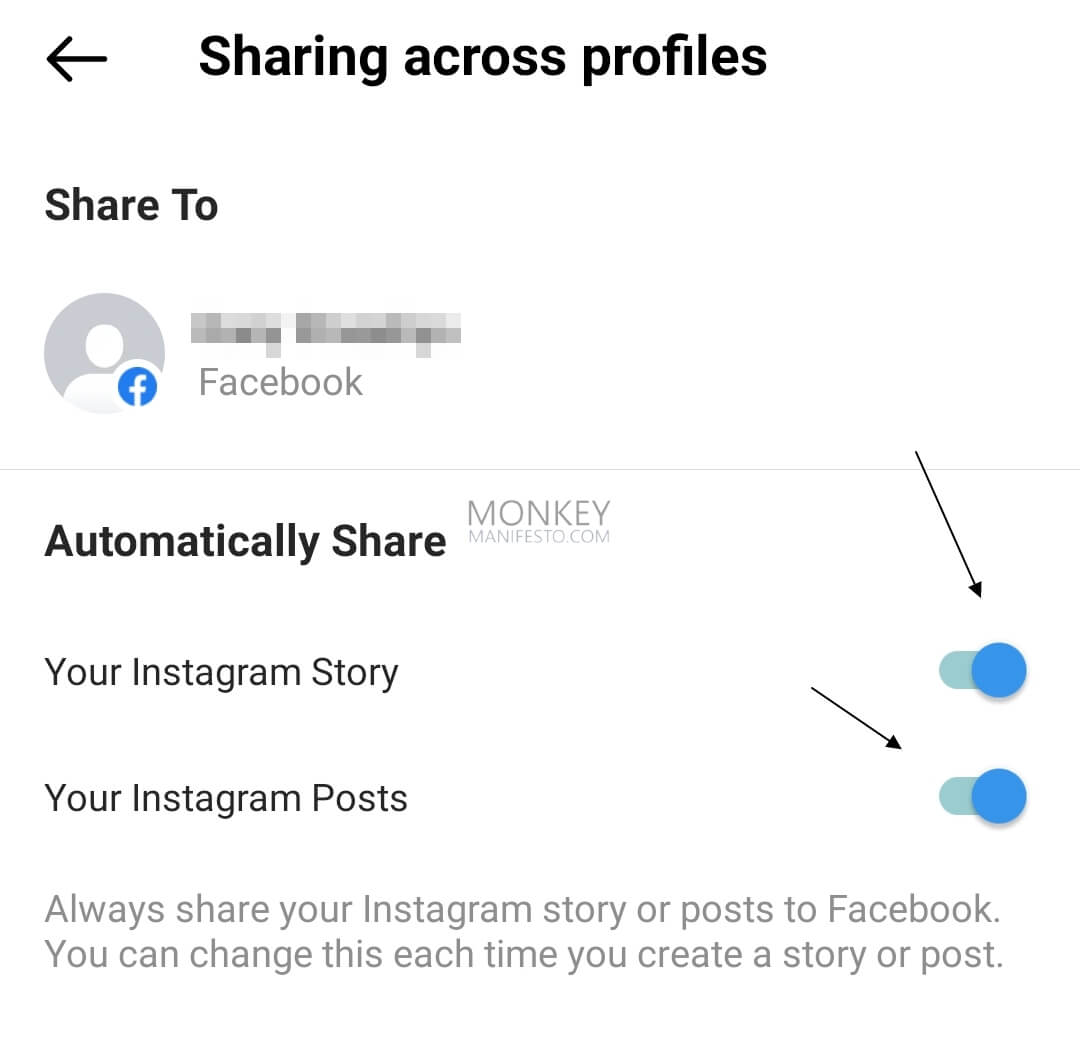 This useful feature makes it easy for people who work regularly using both Instagram and Facebook and want to publish a post or story on both platforms at once without a difference in publishing date and time. No need to manually publish the same content, same picture, and same caption on Facebook.
This sharing feature isn't always working. Some users reported that when they upload a picture or video, they notice that their Facebook profile/page doesn't update a new picture/video from Instagram.
If you turn this on, you should see the Instagram posts you upload next time in your Facebook post. If you don't see it and you suspect the sharing feature isn't working, you can follow the following guides in this post to help fix the problem.
Reasons Instagram not sharing to Facebook
There are some reasons why Instagram is not posting to Facebook:
Instagram isn't properly linked to Facebook.
You may accidentally have disabled the sharing feature on Instagram.
Facebook may be down temporarily when you post.
Your Facebook account may be temporarily banned for unknown reasons, preventing you from posting normally.
There's a bug in either or both the Facebook or Instagram apps.
It could be caused by potentially other reasons, too. You might want to exactly know what causes the sharing feature to stop working by doing the following suggestions which help solve the Instagram not posting to the Facebook problem. Each suggestion takes a few taps and clicks.
How to fix Instagram not sharing to Facebook
Try logging out of Facebook and Instagram app
If you can't post from Instagram to Facebook automatically, you can try logging out of both apps, then log in to your Instagram and Facebook accounts. Before proceeding, make sure your Facebook account has been linked. Then, try to upload a post or a story from Instagram.
To do this, open your Facebook app. Tap the hamburger button at the top, at the right side of the notification icon. Scroll down until you see Log Out button. Tap Log Out. Tap Yes to confirm.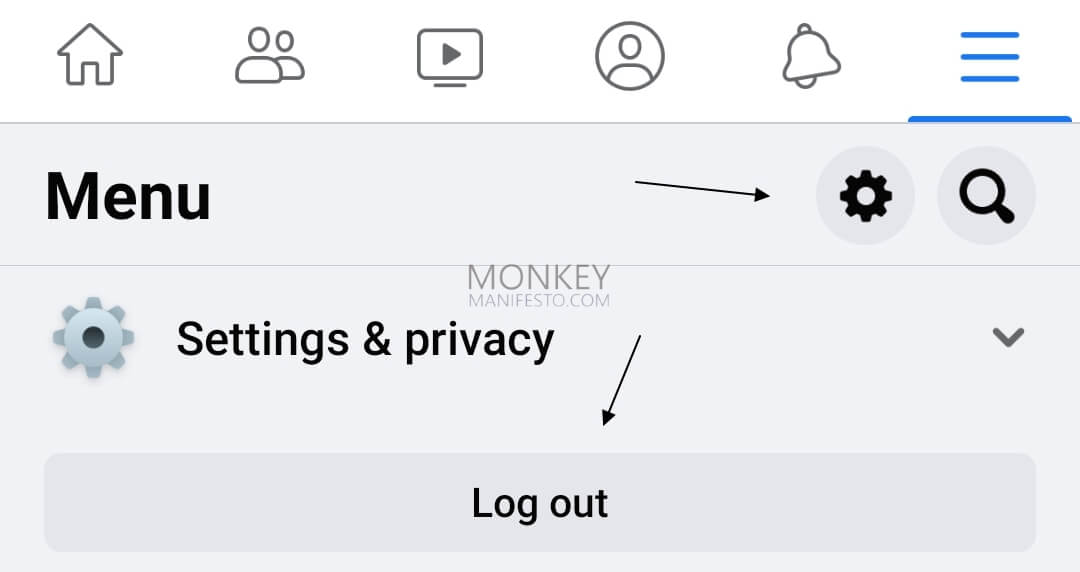 To log out of the Instagram app, simply go to your profile. Tap the hamburger button. Tap Settings. Tap Log Out located under Logins.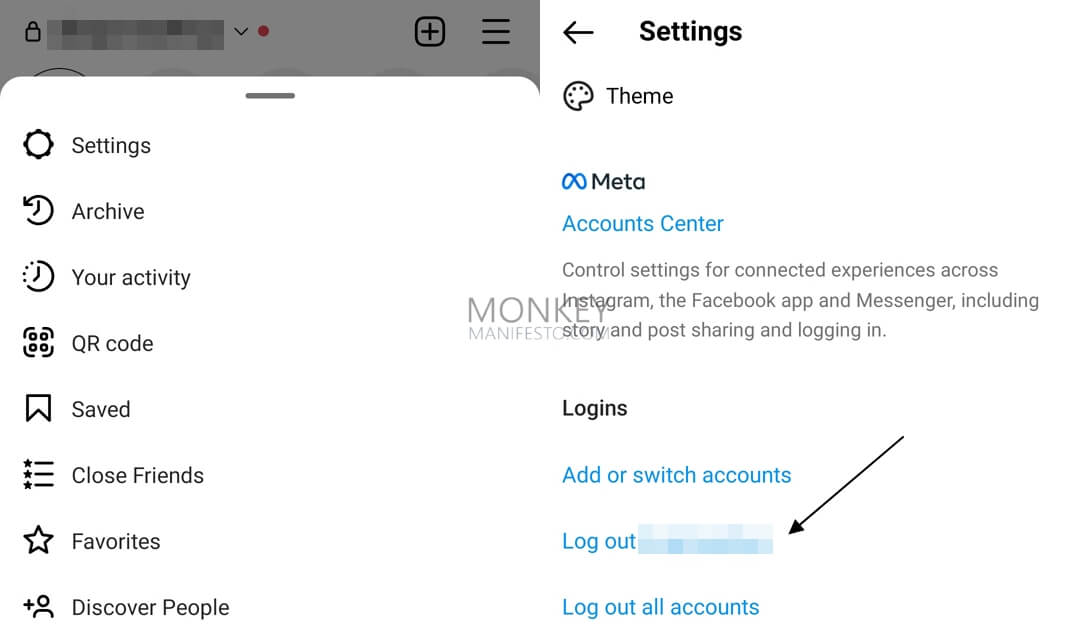 Tap Log Out to confirm. You can also checkmark Remember my login info to easily sign in back to Instagram without typing your email address or password again.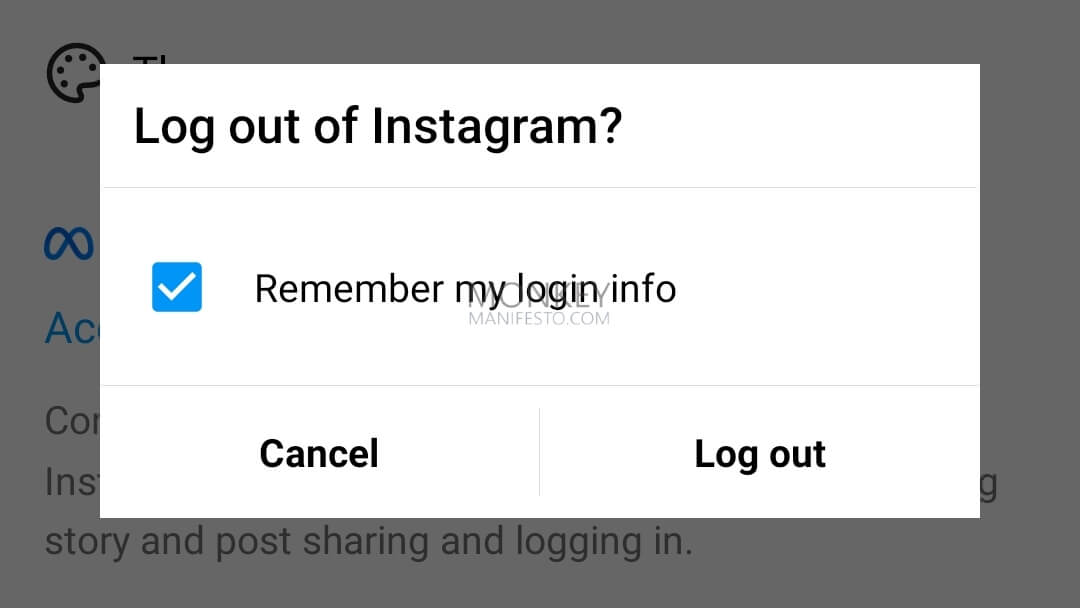 See if this solves the problem. If you still can't post from Instagram to Facebook automatically, you might want to try the next method.
Try changing your Facebook password
This has less to do with the technical solution you can do to fix the sharing feature problem. However, it's still important to ensure your account is safe and isn't accessed by anyone that could have set the unwanted configuration for the sharing feature.
Changing a Facebook password might be a big deal for some users as they are required to remember the new password to sign in. It's still worth a try if want to fix the Instagram can't post to the Facebook problem and if you're concerned about your account's security.
To do this, simply open your Facebook app (Android or iPhone) — this post uses the Android version as an example. You can also do the same thing on the Facebook web on your mobile browser. Tap Settings under Settings & privacy. Tap Password and security.

Tap Change password. Next, enter your current and the new password, and retype the new password. Tap Update password.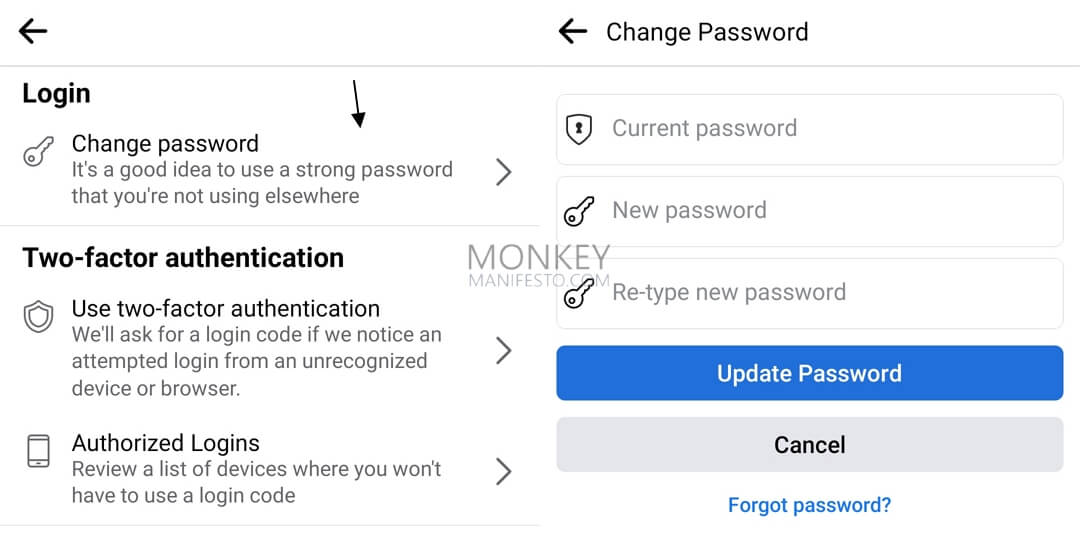 Try changing your Instagram password too
If you're still experiencing the sharing feature still doesn't work and are concerned about your Instagram account's security, you can also try changing your Instagram password. You can do this on the Android and iPhone versions of the app, as well as on the web.
On the Android version of the Instagram app, to change your Instagram password, simply open the app. Go to your profile. Tap the hamburger button. Tap Settings. Go to Security. Tap Password.

Now, enter your current password, and the new password, and retype your new password. Tap the checkmark button at the top to save the new password.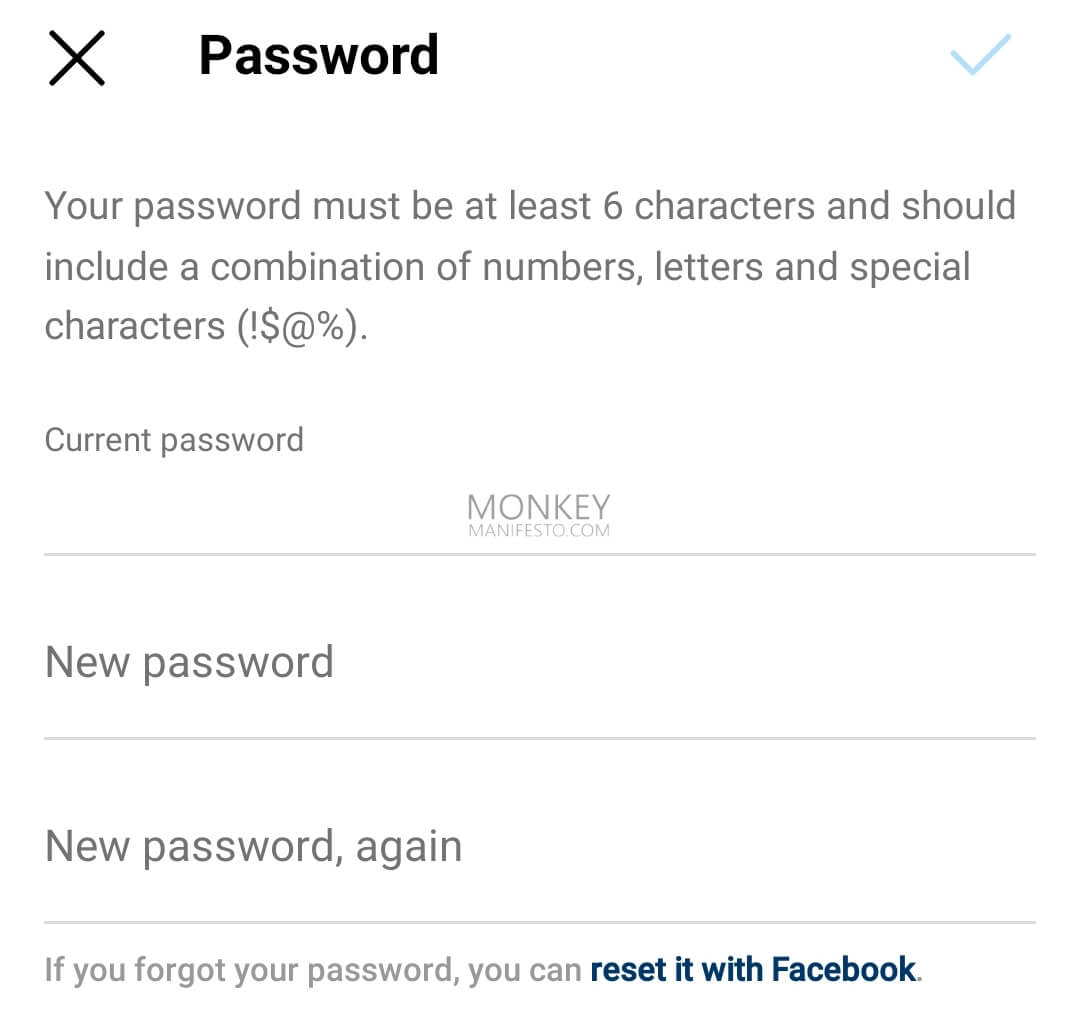 Make sure you link Facebook to Instagram properly
If your Instagram settings on the Sharing to other apps option aren't set properly, you may experience a problem when Instagram is trying to post or share to Facebook.
To check this, simply go to your profile. Tap the hamburger button. Go to Settings > Account > Sharing to other apps > Facebook. If you haven't enabled the sharing option for both story and post, you may see gray toggles under the Automatically Share for both story and post option.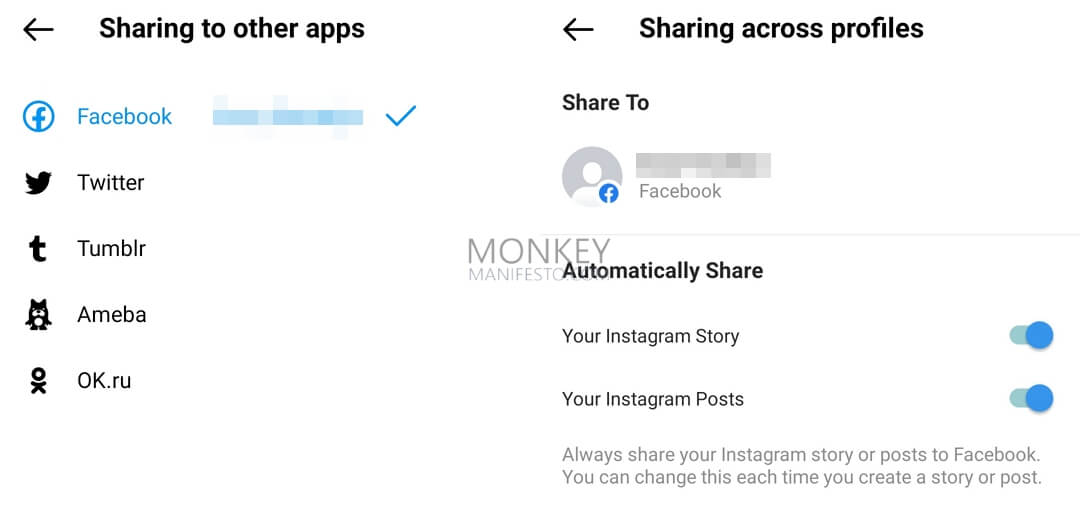 Set the toggle on by tapping it. Blue means the sharing option for either story or post is turned on.
However, if you haven't linked Facebook to Instagram, you will see a login form instead. For this case, enter your Facebook email and password.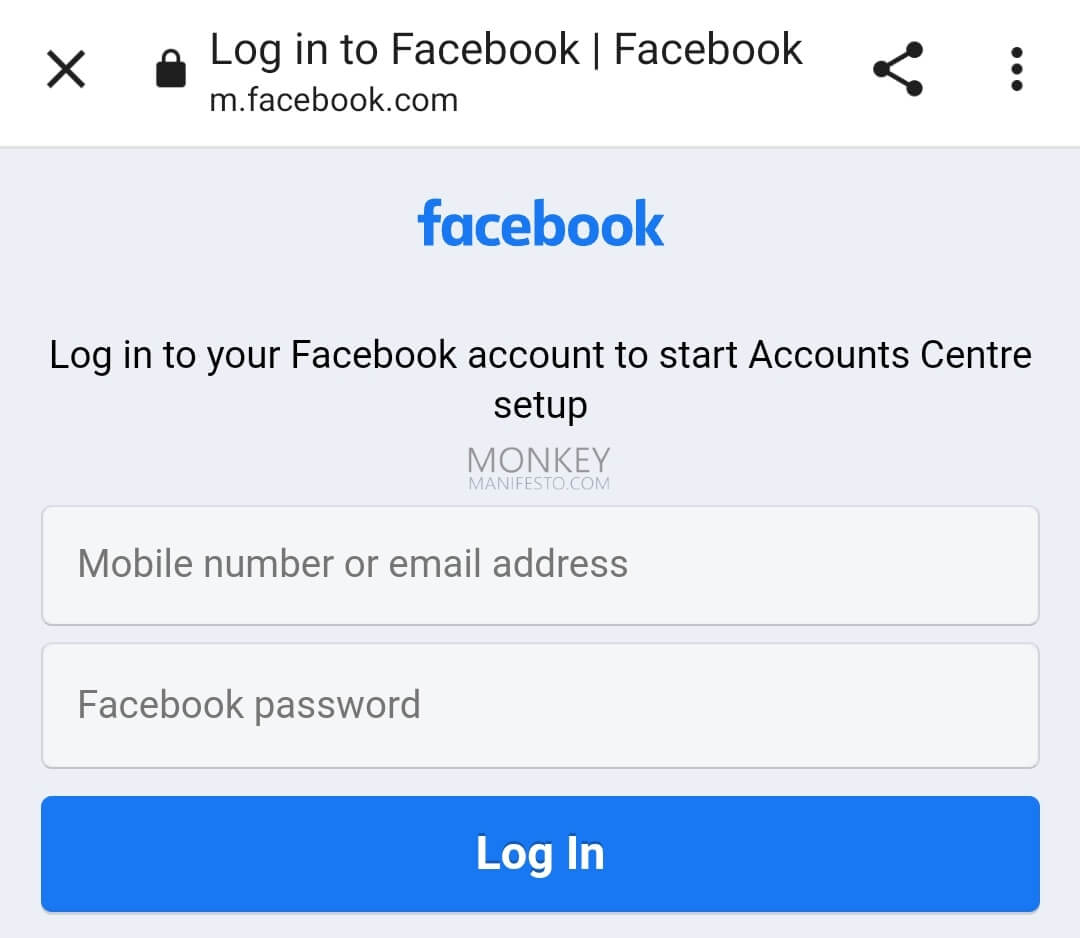 You may be required to authorize. Tap Continue as [your Facebook account first name].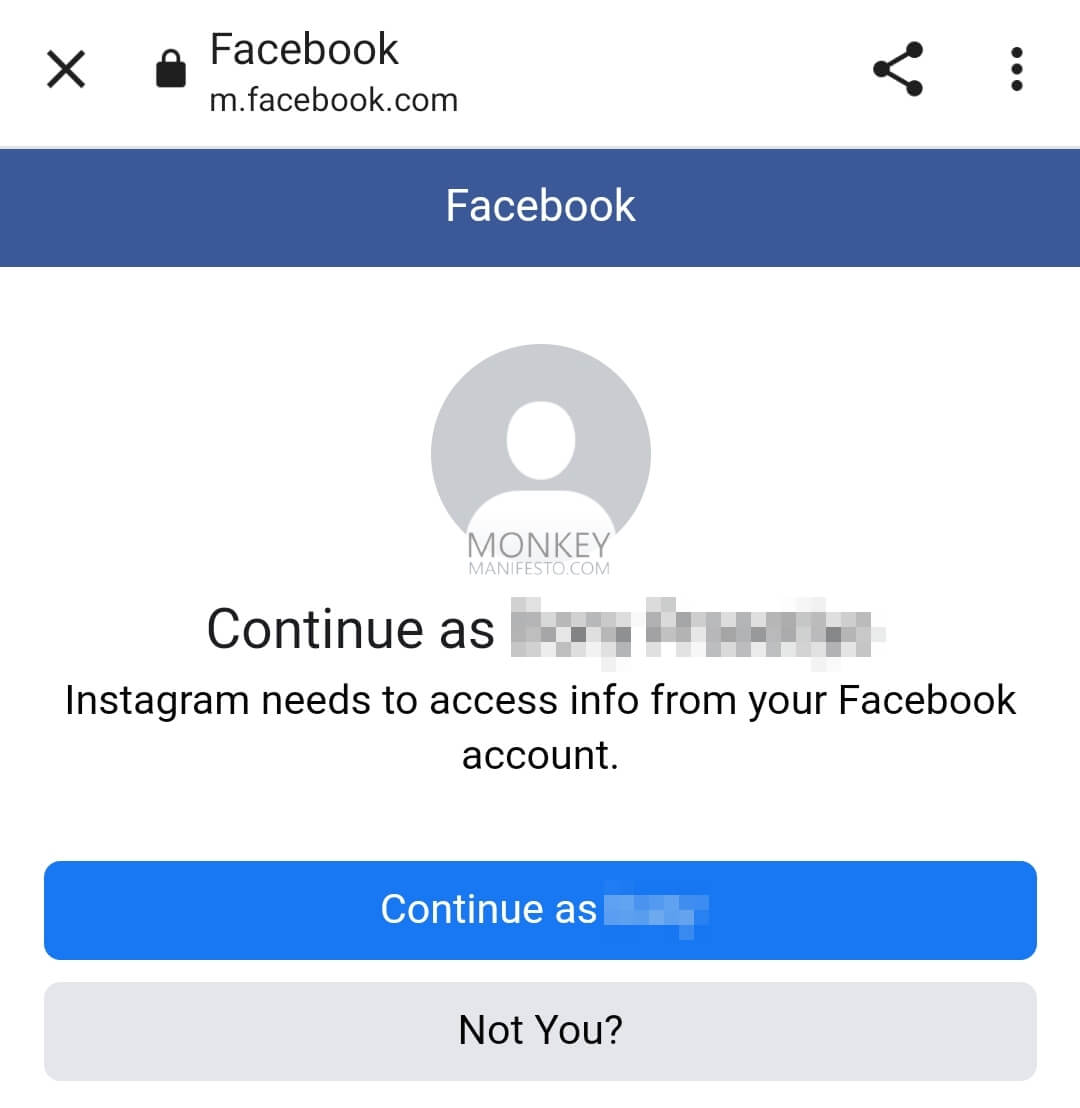 It shows the Meta Accounts Center that shows both your currently used Instagram account and the Facebook account you want to connect with. Tap Continue. Select Yes, finish setup.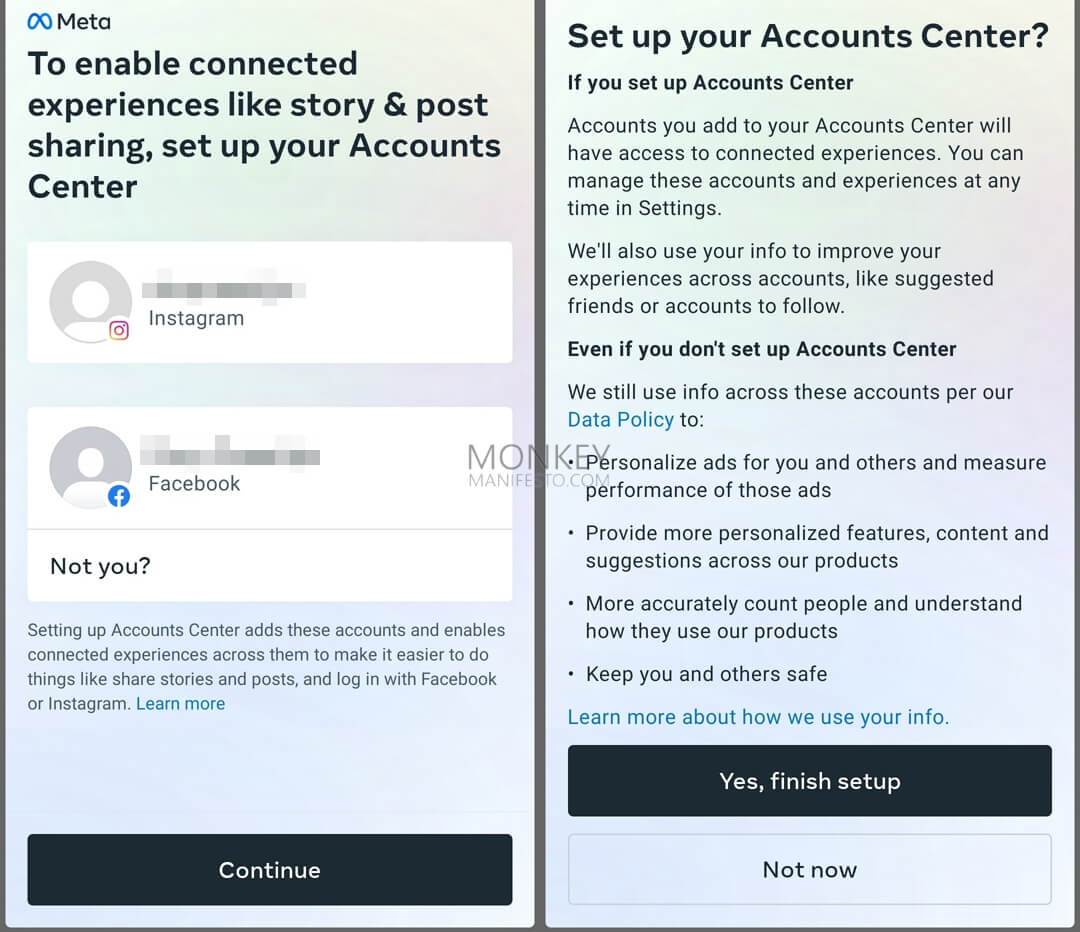 Now, make sure you have set everything properly here. Make sure you have turned on "Your Instagram Story" and "Your Instagram Posts".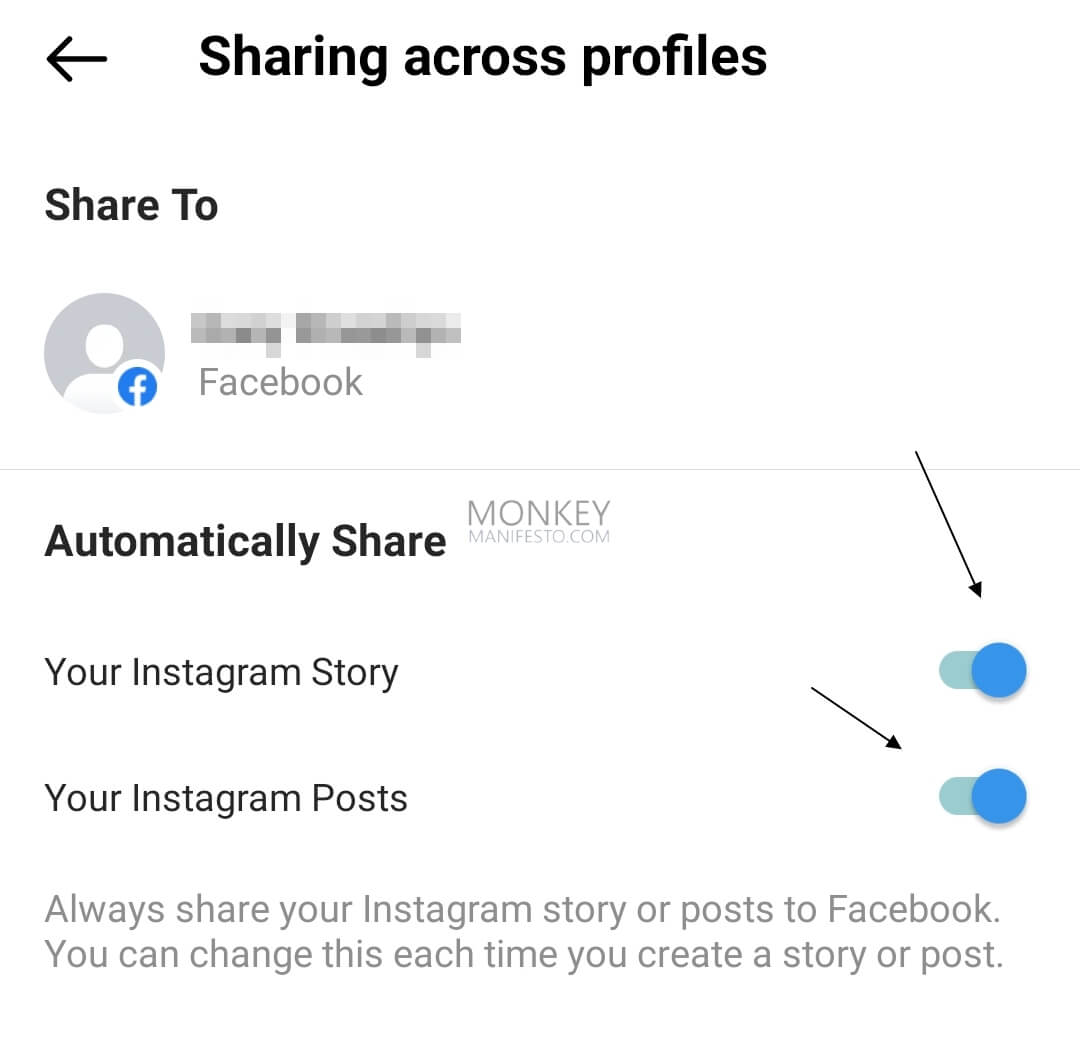 Some people experience that their Instagram account is not posting to the Facebook business page/profile, or posting to the wrong page. The following above method can solve that problem by choosing the right page or profile you want to post to.
Unlink Facebook from Instagram, then link it again
You can try unlinking Facebook from Instagram, then linking it again. If the problem of Instagram can't post to Facebook is caused by technical issues from the linking feature, it's worth a try to unlink and then link again.
To unlink Facebook from Instagram, go to your profile. Tap the hamburger button. Tap Settings. Select Accounts Center under the Meta logo. Select Accounts & profiles.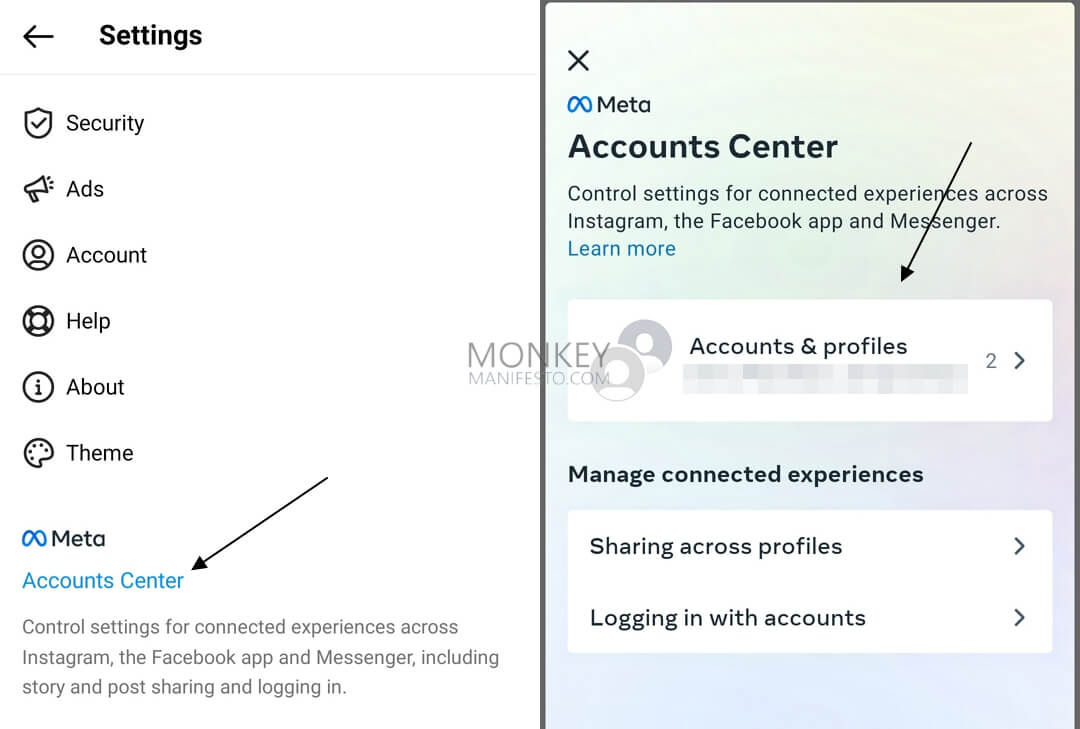 Now, tap the account you want to unlink, in this case, is a Facebook account. Select Remove from Accounts Center to unlink your Facebook account from Instagram.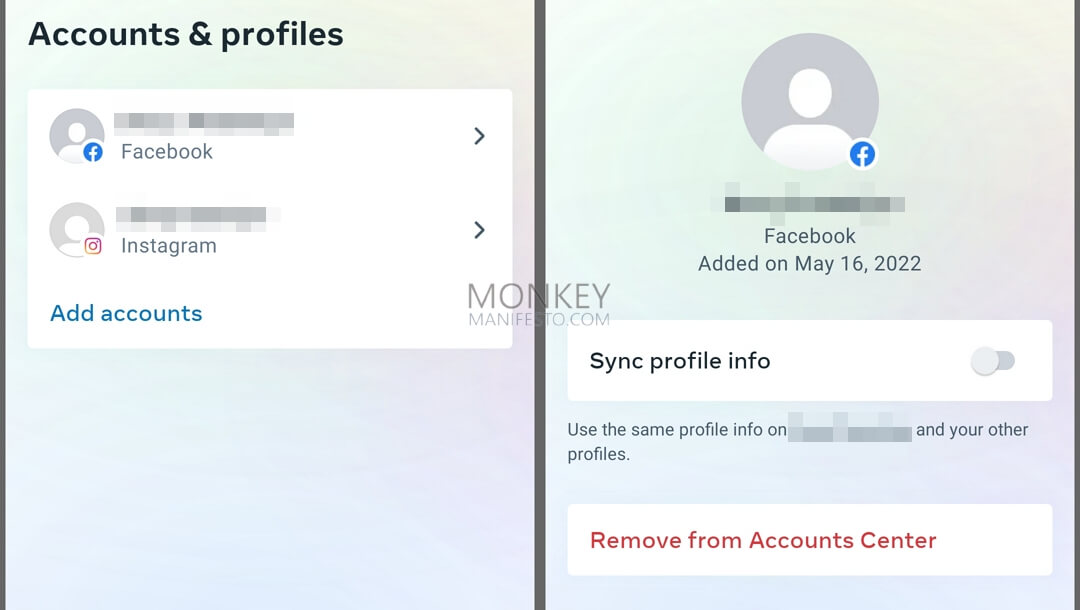 Now, link the Facebook account again by going to Settings > Account > Sharing to other apps.

Use IFTTT service for an independent sharing feature from Meta
IFTTT is a third-party app or service that provides applets to let you automate posting from one platform to another, including from Instagram to Facebook and vice versa.
This is helpful when you want an independent third-party sharing feature from Meta so you can still automatically post from Instagram to Facebook when the entire Meta apps and services, including Facebook and Instagram, are down.
Once you install the app, open it. After signing in, search for Instagram, and you will see applets that help automate sharing from Instagram to Facebook or other platforms and vice versa. When you click Connect, you will need to sign in to the relevant account the applet requires.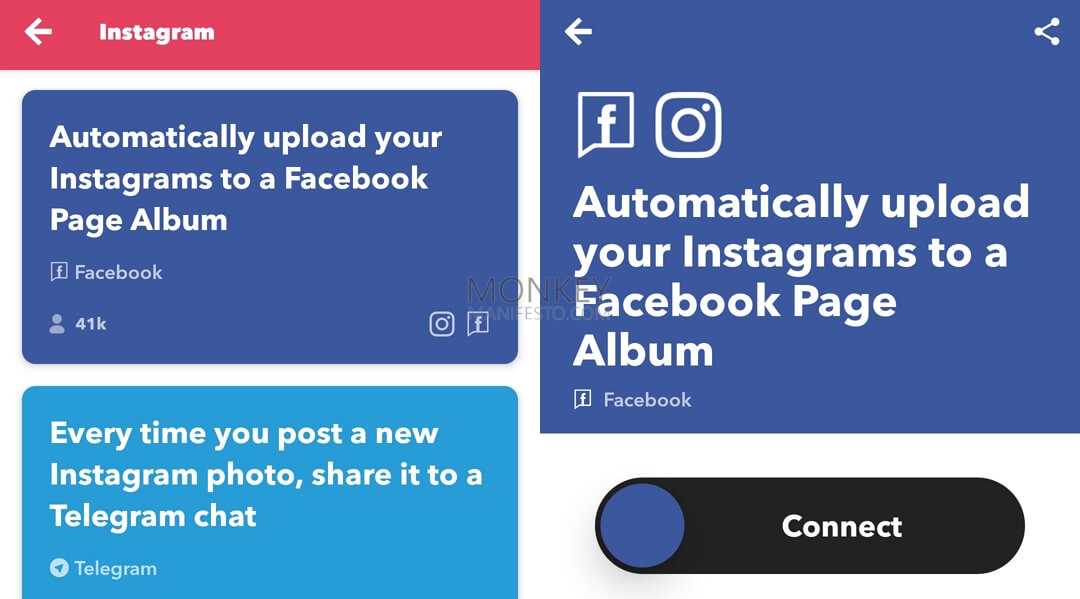 For example, you can automatically upload your Instagram post to a specified Facebook page album. This app can be a nice alternative when the entire Meta servers are down.
Update Instagram and Facebook app
Sometimes an app problem requires an update to solve, and that applies to Instagram and Facebook. The sharing process from Instagram to Facebook might not require the app on its own for it to work, but it's always a good idea to update to fix issues that might occur on the app's end.
To update, search for both apps on Play Store (Android) or App Store (iPhone).
Try clearing your Facebook and Instagram cache
Clearing your Facebook cache might help fix issues related to the Facebook app, which may cause the sharing feature failure issues. Clearing cache helps because it removes the app's temporary data that your phone stores, which can conflict with what actually is stored on the Facebook server.
You can also try clearing the Instagram cache.
Facebook and Instagram might be down
Instagram might not be able to share your post or story to Facebook due to a specific technical issue that occurs on the server's end.
This doesn't necessarily mean the entire Meta apps and servers are down and causing this problem. It can simply mean a part of it prevents Instagram from sharing to Facebook despite the rest of Instagram and Facebook features can be used properly.
---
Instagram isn't a perfect platform, just like Facebook. Some technical issues, such as the sharing feature stopping working, can occur at any time. If you want an independent similar sharing feature from a third-party service, you can try an automating service such as IFTTT.
RELATED POST: Why Won't Instagram Let Me Post?