10 Best Free Linktree Alternatives for Instagram or TikTok
Linktree is one of the most popular, but it's not always the right option. Try these alternatives instead.
Linktree is a popular simple landing page maker that is specifically designed to add multiple links that Instagram (and other social media such as TikTok) don't have the ability to.
For some users, Linktree might not be a reliable platform to add multiple links to your Instagram bio. While some users might think otherwise, you may also look for some Linktree alternatives that might have advantages that Linktree doesn't, either to improve your landing page or to save more money.
As millions of Instagram users use link-in-bio tools, there are certainly other services you can use as alternatives. Read on to learn why Linktree might not be for you, and the alternatives you can try.
Linktree's reliability
Linktree is considered an unreliable website by some users because it is reportedly often down. Additionally, the website has been marked as spam by Instagram in the past. This means that using Linktree may not be the best way to make a landing page for links on your Instagram bio.
Here are the detailed reasons why Linktree might not be a good platform to use:
Linktree website is reportedly often down
Linktree is one of the most popular "multiple links" services, but its increased popularity obviously makes the website more vulnerable to getting down sometimes. However, this doesn't mean Linktree is the only option.
A popular service like Linktree should have performed better and reduced its downtimes on the website. Obviously, website performance is important, and it's impossible for Instagram users to click on your Linktree link when the website is down.
Those hours to a single day could have converted a lot of Instagram users that visit your profile and your link bio to consumers through the call-to-action buttons you made on the landing page, and this downtime makes your marketing strategy ineffective.
Linktree was also marked as spam by Instagram
Instagram reportedly marked Linktree as spam, making the link you share on the bio no longer clickable, or even blocked, which occurred in 2018.
Although according to Wikipedia it has been lifted and Instagram no longer ban Linktree, some people still experience the link being inaccessible and even Linktree themselves have something to say about it, stating they have no control over the issue.
This may have to do with how Linktree works: it uses its own domain (linktr.ee/[your username]) to create a landing page and to put the multiple links you want to add to it. Once Linktree is down or marked as spam, the entire links created by Linktree, including your landing page, will also go down or be marked as spam.
Fortunately, there are some Linktree alternatives below use subdomain created based on your own username and other things, reducing the chance to be marked as spam by Instagram and other social media.
Even better, you can create your own website for a safer and more professional way to add links to your Instagram bio.
Instead of Linktree, try these best free alternatives
There are many Linktree alternatives that you can use for free (or paid) that are more reliable, offer more features, are cheaper, and most importantly, work similarly to Linktree. Some of them are ContactInBio, Campsite, C8KE, Hy.page, and more which are listed in this post.
If you find one of the list often downs, simply tell us on the comment.
ContactInBio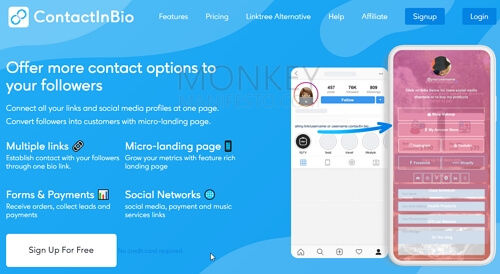 ContactInBio is one of the most popular Linktree alternatives. The free feature is enough to put some multiple links to your bio, but don't get discouraged by how difficult it is to manage your multiple links due to its bad website interface (but don't worry, your link will still be good enough to see).
The free version of the service is good enough as well. It supports importing your links from Linktree if you want to stop using it, the WhatsApp button, contact form, music services, theme selections, link click tracking, and more.
The website works by creating a subdomain based on your username, but this won't guarantee your link can get away from being marked as spam by Facebook and Instagram. It just reduces the chance.
Campsite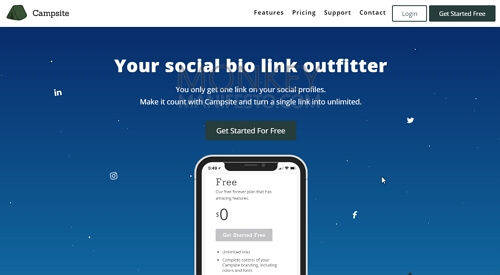 Campsite is also a good enough alternative. The free version supports unlimited links, changing color and font, tracking how many people click on your links, adding pictures directly from your Instagram account, single slide carousel, and more.
With $7/month, you can get a custom domain for your own brand, leaving out the hassle and stress of taking care of the server and hosting. You'll also get priority support, as well as getting a custom subdomain if you want. Includes Google Sheets and MailChimp integration.
C8KE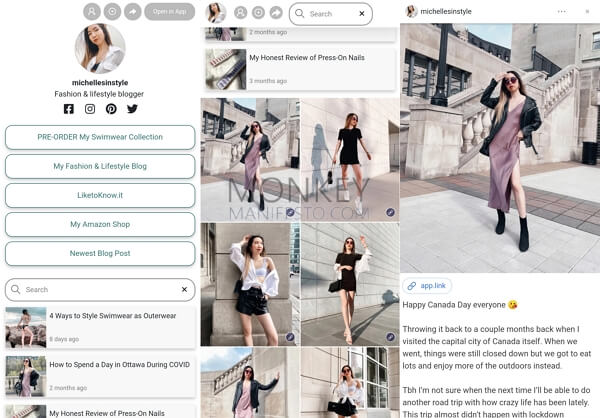 C8KE is an Instagram bio link tool that is completely free to use. C8KE allows you to customize the color, font, background, and more to make a simple landing page that fits your brand. Also, the analytics feature allows you to track all link clicks within your page.
C8KE provides a unique image gallery feature that makes it easier for you to promote your affiliate products directly on your bio page. You can add custom affiliate links or a unique URL to any images/video you upload into the gallery. Additionally, there's also a search bar that allows your audience to easily find content/products you put into your shoppable gallery.
Other than social links (which most bio link tools provide), C8KE also offers a unique RSS feed feature. Once enabled, any new blog post or Youtube video will automatically show up on your bio link landing page which saves more time and allows you to share more content.
Hy.page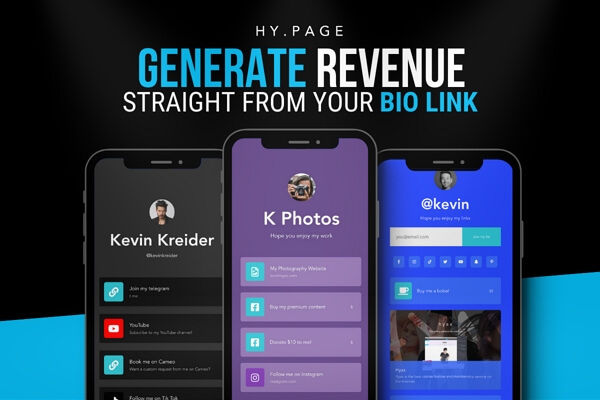 Hy.page is not a regular Linktree alternative. It provides more than just showing unlimited links. You can accept donations, create a recurring membership like Patreon, sell premium content, sell digital products, take custom fan requests, and more.
Don't worry about analytics. It supports Pixel integration and allows you to collect emails, which are included in the free plan. You can customize the color of the page, add video links, and integrate it with your PayPal account for free as well.
Another thing about this service is that it has zero transaction fees, allows you to use your own domains, and more on the pro plan -- although the free version has already plenty of nice features. If you need to use more than three domains, you can upgrade to the enterprise plan.
No need to separately use multiple services like Patreon and Linktree anymore when you can get the similar combination features of both in a single service.
LYNX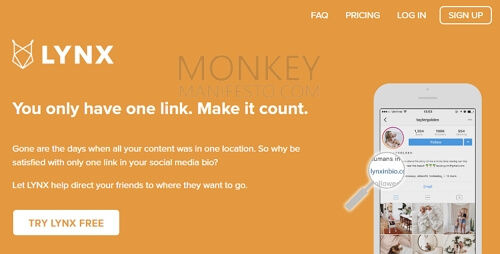 LYNX provides simple free features: click tracking, and a standard theme, but only supports 5 links. Good thing is that it doesn't show ads. This is the best alternative if you only want to put five links in your bio.
If you want unlimited links, you would have to pay $5/month. That includes a custom domain name, advanced click tracking, advanced theme customization, and removing the LYNX footer, which shows for free users.
Tap.bio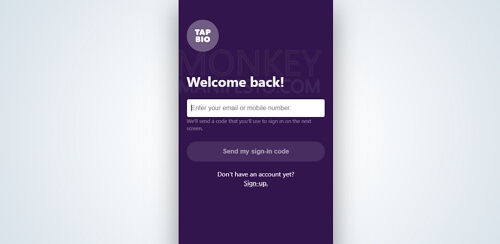 Tap.bio takes to a new level of mini-landing page. Instead of creating only a simple landing page for multiple links, it creates a slider that works like an Instagram story, which is called a "card" on this platform.
For free users, you can only have one more additional card, but that's enough to add multiple links in unlimited amounts. You can add more cards, like a YouTube video card, by upgrading to its premium account for $5 a month.
About.me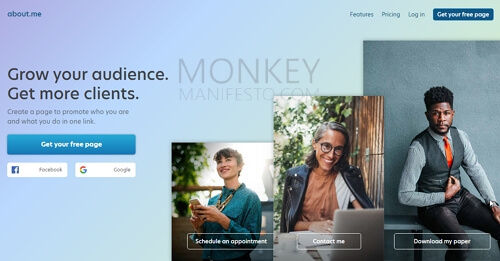 About.me may not be specified to be made for Instagram or media social multiple links tool. But it's worth trying if you want a more professional-looking simple landing page without creating a website.
Link in Profile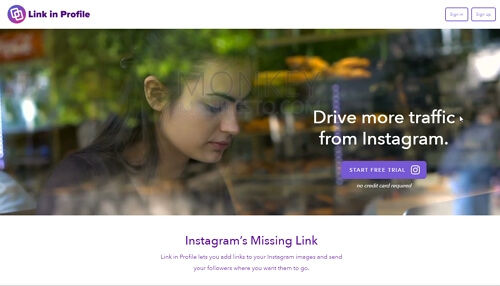 Link In Profile is generally a landing page maker, but you can use it to add multiple links for your bio. There is also an analytic tool as well, that's good to make sure how effective your marketing strategy is.
Linkr.in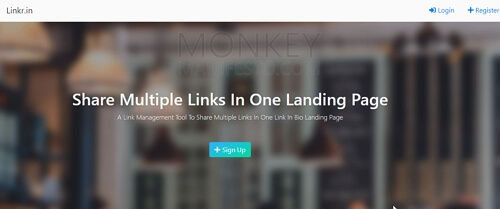 Linkr.in provides you custom URL for the link, Google Analytics integration if you want to track the click or event, a built-in statistic which is great, and more. But, the downside is that it shows ads.
The premium version is cheaper than some alternatives I've talked about. It's about $3/month, which gives you FB Pixel integration, unlimited link, footer removal of the site's name, and disabling ads.
Link.bio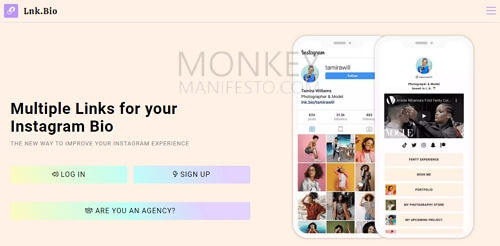 Link.bio gives you unlimited links, and random URLs, and that's it. The random URL part might not be a problem if you want to go with a simple, easy-to-use multiple links tool like this.
The best thing about this tool is that it's probably the cheapest of all. It costs about $0.99/month for the premium account, which supports custom links, link tracking, schedule link, and more. It also has a lifetime plan for about $9.99.
Create your own website instead of using a landing page service
Creating your own website, taking care of it, and creating a simple landing page to put your multiple call-to-action buttons/links is better than using Linktree or any Linktree-like services. Using your own website reduces the chance of being marked as spam and makes your brand look more professional.
Your website has less chance of being marked as spam because you or your brand is the only one who adds your website's link to the Instagram bio with it. Services such as Linktree are vulnerable to being marked as spam because some people abuse it to spam links on Instagram.
And, in case Meta, (Facebook and Instagram) ban your domain or mark it as spam, you can contact Facebook support in the Business Manager, and verify your domain there.
---
There are some great Linktree alternatives you can use to maximize your marketing strategy that provides almost the same value or even more than Linktree does to create landing pages. If you're looking for an alternative to Linktree, be sure to check out the options on this list.
RELATED: Why Won't Instagram Let Me Post?