Best Productivity Apps for Students
Don't let school or college burn you out with assignments and tasks. Here are the best productivity apps for students to help you do that.
Studying at the college is a marathon.If you don't distribute your energy in the beginning and rush forward, you may lose your breath halfway through.Managing your time appropriately is not about doing everything yourself.
Such a strategy won't help your productivity at all.It's about having everything organized and making sure you haven't missed anything. Fortunately, there are some best productivity apps for students to keep everything tracked and well-structured.Making a to-do list, tracking habits, and getting more things done are easier with those apps. Here are the reviews of the 3 top productivity apps that are most appreciated by students:
TickTick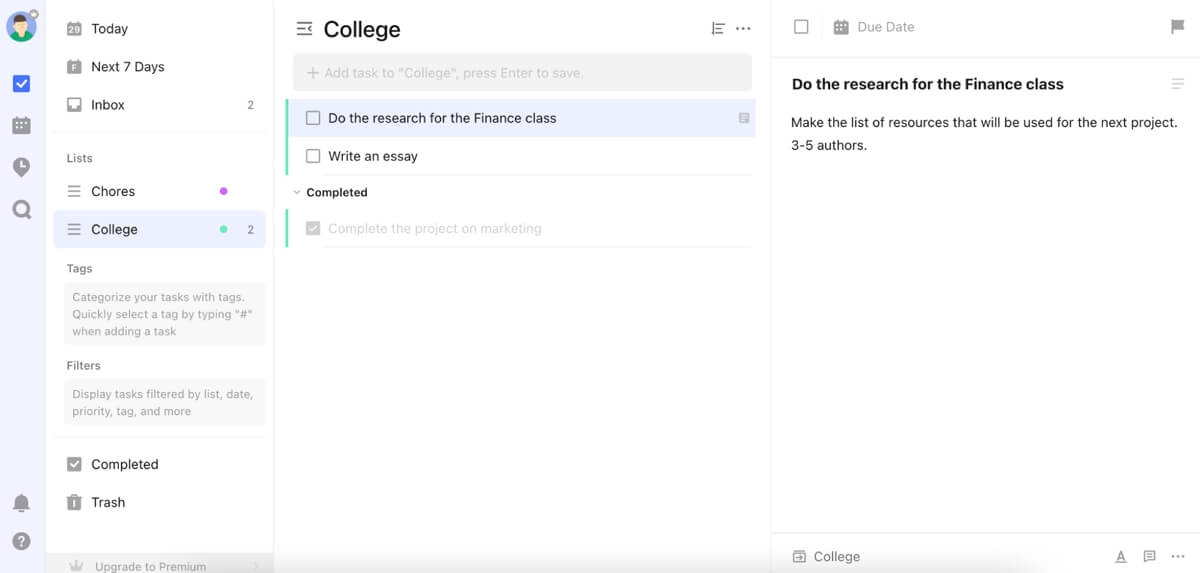 In TickTick, you can organize your entire study and work life.
It has to-do list features, a habit tracker, a calendar, a kanban board, and a built-in timer, but the main thing you can create and maintain here is study boards. A study board is a whole system to plan your study and allocate it over time.You can put professional skills on the boards and divide them into individual pieces: lectures, courses, books, or articles.Also, you can organize it all on kanban boards, where you distribute the materials you need and attach links to them. Kanban boards consist of several sections and cards.
The boards are generally used to work on projects and are divided into stages: pending, in progress, completed.Cards within a section move when the status of a task changes.In this way, you can track the progress of a project.
We can increase the number of sections or modify the use case to suit ourselves. You can enter ideas, projects, wish lists, shopping lists, and more into TickTick, and boards can be shared or even shared with friends.In task cards, you can edit text, create templates, and set subtasks, tags, priorities, descriptions, and deadlines.If the task is large, little note-taking is what you do. One of the best features of the app is the ability to focus on a task using the built-in Pomodoro timer.
This helps to analyze your lecture and quiz time.In the paid version, you can change the theme of the app. TickTick can summarize the days and weeks by keeping a small diary, which automatically records the tasks you performed. The free version has some limitations:
You can create up to 9 task sheets, 99 tasks per sheet, and 19 checklists within tasks.
You can only share a sheet with one person.
No access to calendar, smart lists, and statistics.
No additional themes, sounds, or calendar widgets are available.
Limitations on reminders and number of habits.
You can't set an estimated number of tomatoes per task.
These restrictions do not interfere with managing routine or simple work tasks, like your academic paper.You can also get help for
writing your academic paper writing with a service like Writingapaper, so you can focus on other tasks without burning yourself out and help you keep being productive.
Trello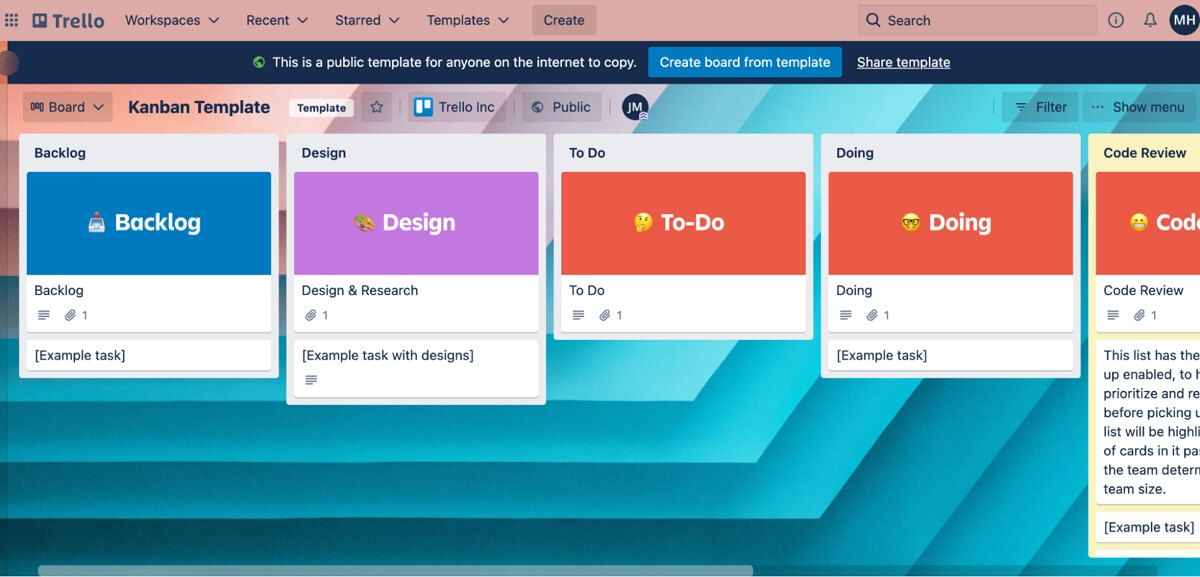 Trello is a good alternative to TickTick if you need a simple study plan.
The interface of the program consists only of kanban boards, which you can divide into study subjects, and tabbed with lectures, articles, books, links, and any study materials. For example, you can have your study board consist of six sections divided into two parts: subjects and statuses.For each subject, you could put cards with courses, lectures, or materials you needed to take. After you took the material, you would move the material card from the course to the status card or add checkboxes inside the card with the steps to take.Within cards, you can create individual subtasks, keep notes, attach links, set deadlines, comment, track progress, and label cards for easy retrieval. In Trello, you can share your boards with friends or keep them together.
For example, you use Trello boards as a knowledge base for yourself and your colleagues.For example, add links to interesting content, resources, and sites to one shared board.It helps to have quick access to the material you need. Trello is free, but there are additional paid plugins that enhance its functionality.
For example, Custom Fields creates additional fields in the card, which allows you to customize the card for any processes and system elements.
Habitica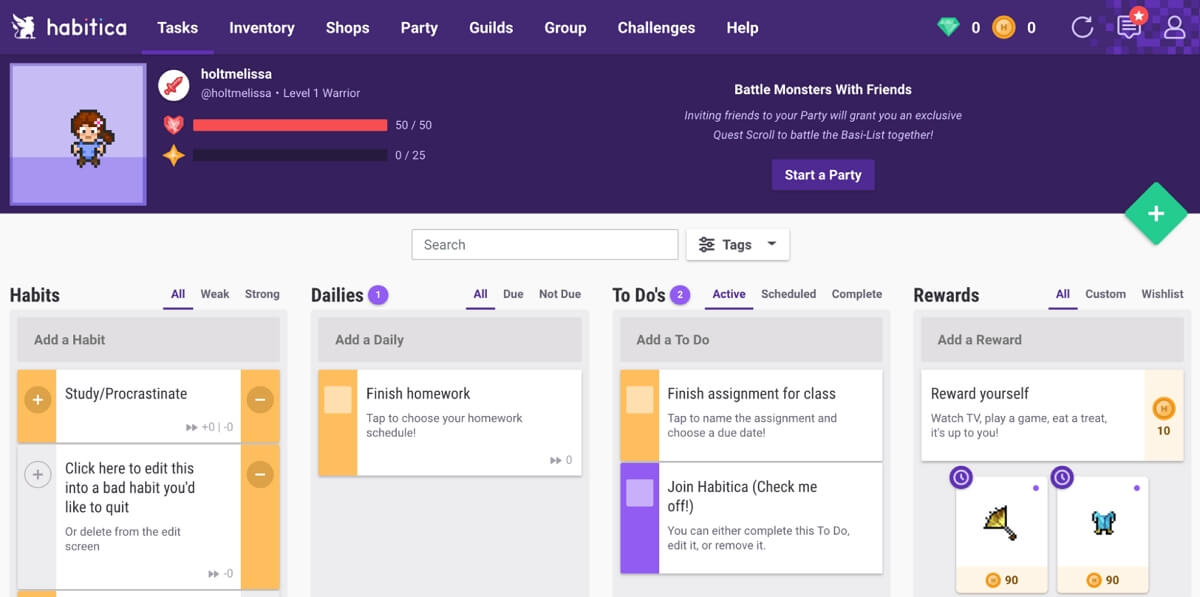 Students love computer games, and the idea of pumping up a character based on accomplishing real-world tasks seems like a genius concept.And that's what Habitica is all about. In the app, you can set daily tasks and long-term goals, add deadlines, track habits, add rewards and priorities, plan your routine, and go on raids on monsters, all the while boosting yourself and your character. Habitica has a class system, magic, loot, and pets, as well as powerful bosses, some of which it might take your team of six a week to defeat.During a boss fight, you have to complete all daily tasks and you can't miss deadlines, or damage will come to the entire team. After winning coins, gear and experience are dropped, thanks to which you can raise the level of your character.
Habitica has a community where you can find friends, join a group and do small story missions together, the success of which depends on your productivity in real life. These apps will help you to be more productive in both studying and life in general.You can choose what is more convenient for you and after the first week of using it, you'll realize how much more things you've managed to do. Now, you will not forget to find the best writing services that you need for your homework help nor lose the note where you have written them down.Well, it's time for you to experience all the advantages yourself!