How to Redeem a Roblox Gift Card Code on iPad/iPhone/Android/PC
Roblox makes it interesting to play games together, one of them is sharing gift cards. Here's how to redeem a Roblox gift card quickly.
A Roblox gift card is a card that has a code that can be used to top up the balance of your Robux.Robux is the currency of Roblox, and you can load up on credit to buy items on Roblox using a gif card that you receive from someone else. When you receive gift cards, you have to redeem them to spend the Robux. Fortunately, redeeming them is easy and can be done on any device, as long as you have a stable internet connection.You can do it on iPad, iPhone, Android, PC, and anywhere.
How to redeem a Roblox gift card code
Redeeming a Roblox gift card can be done on the Roblox official website.
Open the website (roblox.com/redeem) on your iPad/iPhone/Android/PC browser, but you have to sign in to your Roblox account first.Once you've signed in, you can see the redeem page, like this: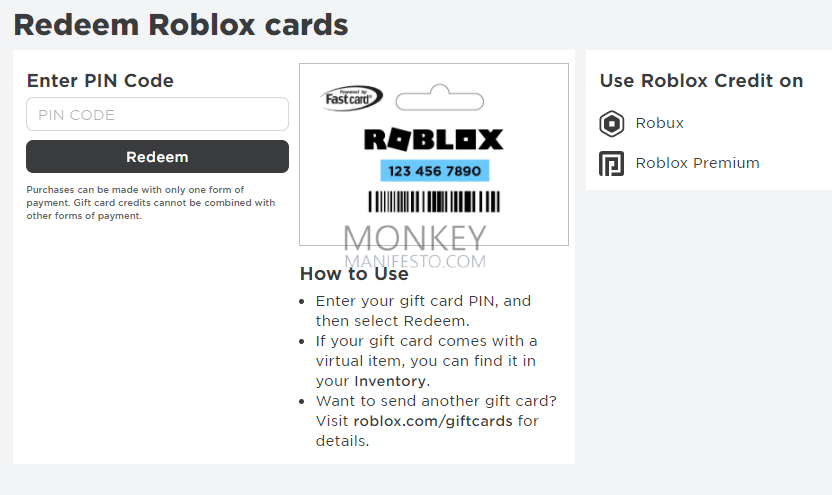 On your Roblox gift card, there should be a PIN that you can see clearly.Simply enter that PIN you see on the gift card to the "PIN CODE" textbox on the redeem page.
To redeem, simply click Redeem. You should see "Your Credit Balance" text below the Redeem button.Then, simply click Convert to Robux to finally convert the gift card value into your Robux. Finally, click Confirm to redeem the Roblox gift card.You're going to see a message saying that you've successfully redeemed the gift card.
---
Now, you can finally spend the
gift card
to buy the virtual items for Roblox, and enjoy playing Roblox in a more fun way.
If you wonder how much Robux you can have with a specific amount of money in USD, you can use this free Robux to USD calculator.